Updated : Wednesday January 9,
2013 9:53:28 PM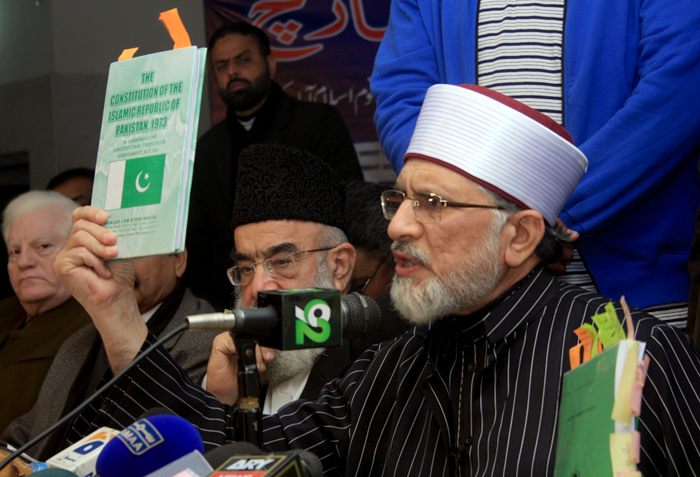 Tehreek-i-Minhaj ul Quran leader Dr Tahir-ul-Qadri has said that if CNICs of the participants of long march would be checked then they would shut off uniforms and check the tattoos engraved on the bodies of terrorists. He added that he does not want a single day delay in general elections.
Addressing to lawyers at Minhaj ul Quran Secretariat on Wednesday, he said that corrupt and rigged people could run elections, but capable person could not do so in the country. He said that a large quantity of people do not cast their votes owing to.
He alleged that federal government has failed to eradicate terrorism, while Punjab government remained successful to protect terrorists. Law makers were disobeying laws, Qadri said, added that, politics of bargaining being played in the country for last five years.
Qadri said that he wants only those people run elections who met all requirements written in the Constitution. He said that if government does not fulfill its duties, it could not be said
a constitutional government.
He said that do not scared them with snakes, because Allah has right of death and live. He said that long march being organised to throw out corrupt and looters from the assemblies.
The TMQ leader went on to say that long march being held to implement the decision of the Supreme Court. He added that judges were worried that their decisions were not implemented.
Qadri said that nation has awakened, added that, it would take its right at any cost.