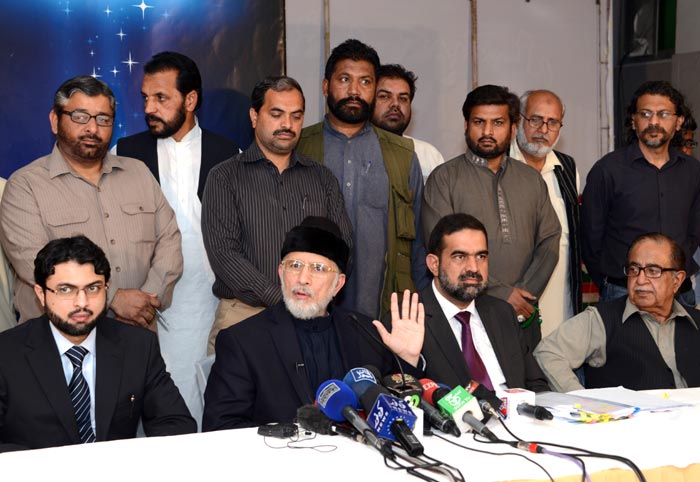 Dr Muhammad Tahir-ul-Qadri, the leader of Pakistan Awami Tehreek, addressed a special press conference in the party's central secretariat on March 19. He said that as long as the incompetent and corrupt elements would continue to find ways and means to come into power, the system would stay intact. He said that PAT wanted to bring about change in the country for the sake of people. He said that it was not possible to achieve this objective without dismantling the incumbent system, which was the major hurdle in the way of change and well-being of the people.
Dr Tahir-ul-Qadri said that when the assemblies would come into being after the elections, will the nation be able to ask as to what they got out of the entire exercise? He said that the people should not sit idle or inactive during the elections of deal-making. Rather they would have to do something to register their sentiments. He said that the Pakistani nation was being defrauded and led up the garden path as the electoral system remained un-purged of the ills in the absence of meaningful reforms. He warned that the culture of violence and terrorism would be encouraged during the process of elections of the corrupt politicians and in endeavours to install them into power.
Dr Muhammad Tahir-ul-Qadri said that facilitating the corrupt politicians to grab power and giving them ample opportunities to do so would be akin to encouraging terrorism and chaos in the country. He vowed that PAT would continue to wage its struggle for corruption-free electoral system to save the nation. He said that his struggle had always been for ridding the country of scourge of corruption and putting in place a clean, inclusive and transparent system.
Dr Tahir-ul-Qadri said that the corrupt politicians were not afraid of being disqualified under the present electoral system. He said that Articles 62 and 63 of the Constitution were being put at the backburner and rendered ineffective under the fraudulent system. He said that the Supreme Court ordered the retention of 'vote for none' column on the ballot paper but this order was not implemented.
Dr Qadri said that sit-ins on the polling day would strictly be in accordance with the Supreme Court's verdict on June 8, 2012, which also contained a direction for inclusion of 'vote for none' column. He said that talk of staging sit-ins at polling stations were wrongly attributed to us, which was tantamount to spreading lawlessness and chaos.