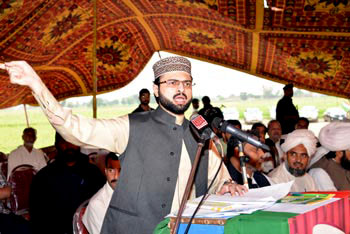 Dr Hassan Mohi-ud-Din Qadri, Chairman of the Supreme Council, has said that journey of revolution has got underway and it would culminate only after reaching its destination. He said that the country had come to this pass because of corrupt electoral system that imposed corrupt, and incompetent political leadership on the masses. He said that people could never hope to enjoy their constitutional rights under the corrupt system, adding that it was structured on the anti-people foundation.
Citing the recent surge in the prices of commodities and depreciation of rupee versus dollar, Dr Hassan said that on the one hand, it became literally next to impossible for the people to make their both ends meet and on the other the rich were making merry due to special incentives being offered by the government at the cost of the poor. He said that if the people wanted to secure the future of their children, they would have to wage a peaceful struggle against the system, adding that it was exploitative system that was at the heart of their predicaments.
Dr Hassan Mohi-ud-Din Qadri expressed these views while addressing Pakistan Student Convention organized by Gujranwala chapter of Mustafvi Students Movement the other day. MQI Secretary General Khurram Nawaz Gandapur, MSM President Ch Irfan Yousaf, Secretary General MSM Rizwan Bashir, Tanvir Ahmad Khan, Sabtain Ali, Kashif Cheema and others were also present on the occasion.
Dr Hassan Mohi-ud-Din Qadri asked the student community to play their role to get the country rid of the corrupt electoral system. He said that students and youth were backbone of any society and they were the future of the nations. He said that the students played a leading role during the freedom struggle, calling upon them to revisit their glorious history in a movement to make Pakistan a country of the Quaid-d-Azam's dreams.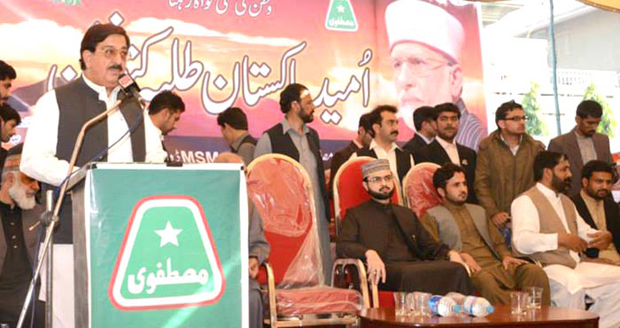 Speaking on the occasion, MSM President Ch Irfan Yousaf said that the student community was ready to play their role on the call of Shaykh-ul-Islam Dr Muhammad Tahir-ul-Qadri. He said that a combination of factors such as terrorism, militancy, and poor economic situation had darkened the future of students, adding that they were committed to transform this darkness into a dawn of new hope.