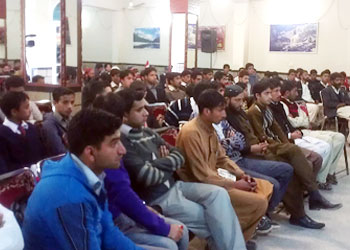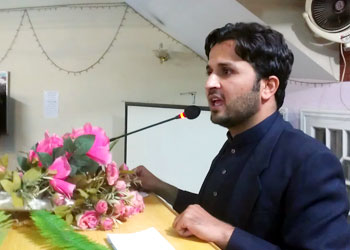 MSM (Muzzafarabad chapter) organized a 'Pegham-e-Hussain Conference' and 'Pegham-e-Talaba Convention' which was presided over by the central president Ch Irfan Yousaf. The proceedings of the Convention got underway with the recitation of the Holy Quran followed by Naat. A 'manqbat' was recited in the honour of Hazrat Imam e Hussain (RA). Sardar Ijaz Saddozai, President of PAT Jammu and Kashmir, Ch Zia-ur-Rehman, Ansar-ul-Haq, and a large number of students and workers attended the Convention.
Speaking on the occasion, Ch Irfan Yousaf said that raising a voice against oppression and violation of rights was true reflection of Hussaini character. He said that the country had been enveloped in the darkness of terrorism and militancy, adding that disappointment was ruling the roost in every nook and corner of the country. He said that the students would have to play Hussaini role to steer the country out of these raging crises.
In his remarks on the occasion, Sardar Ijaz Saddozai said that the people could never expect to have positive change within the current electoral system. He said that the Pakistani nation would have to raise a collective voice against the corrupt system to break the shackles of hopelessness, warning otherwise bleak future was ahead of them. He asked the people to stand shoulder to shoulder with Dr Tahir-ul-Qadri in a struggle to put the country on the trajectory of development and socio-economic justice.
The convention ended on dua for peace and the country's security and stability.