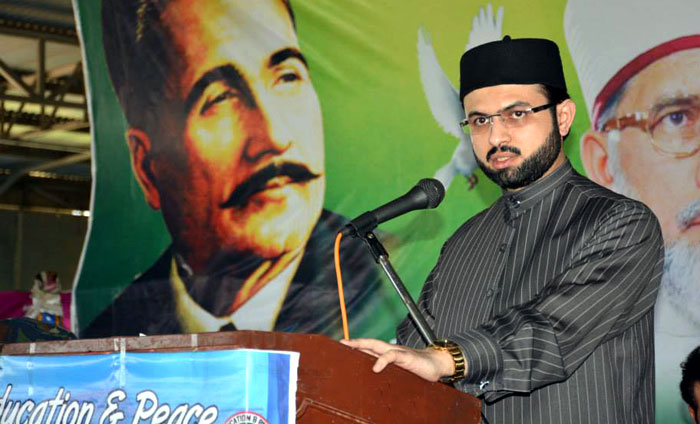 Mustafavi Students Movement (MSM), Islamabad chapter, organized three-day peace and education spring festival in International Islamic University. Book and food stalls were set up at the occasion to highlight the spirit and festivity of the event. It was an important initiative of MSM to provide purposeful entertainment, recreational and educational opportunities to the student community, which was appreciated a lot.
'Student Awareness Convention' held under the aegis of MSM marked the inaugural ceremony of the festival in which Chairman of the Supreme Council Dr Hassan Mohi-ud-Din Qadri was the guest of honour. Renowned columnist Mazhar Barlas, Secretary General of PAT Khurram Nawaz Gandapur, central President MSM Chaudhry Irfan Yousaf, Razi Tahir, Engineer Hanif, Qasim Mirza, Shafiqur Rehaman, President PAT Islamabad Ibrar Raza Advocate, and Asim Bashir Inqilabi were also present at the occasion.
Delivering his keynote address, Dr Hassan Mohi-ud-Din Qadri said that the Pakistani students had proven their credentials at all forums globally. He said that they were not behind students of other countries in terms of intellect, competence and hard work despite facing many constraints. He said that it was unfortunate that talent did not get appreciation and acknowledgement in Pakistan. He said that the students were exploited by a class-based educational system with the result that the students belonging to poor households felt inferiority complex and lagged behind in the race of life. He said that it would be futile to expect the country to progress without mitigating difference between the rich and poor students. He said that the struggle launched by Dr Qadri was for the poor and youths of this country. He said that the revolution he was leading was for the betterment of the poor, the helpless and working classes.
Speaking at the occasion, renowned columnist Mazhar Barlas said that when the students stepped into the practical arena, no power of the world could stop their way. He asked the students to keep on working hard, adding that the day was not far when they would achieve success and make a mark in life.
Central President of MSM Chaudhry Irfan Yousaf congratulated the workers of MSM from International Islamic University on holding such a wonderful programme. He said that we were proponents of knowledge and peace. He said that the purpose of organizing this event was to promote awareness among the student community.
Fahd Bashir, President of MSM (Islamic University), thanked the guests for sparing time to attend the event.