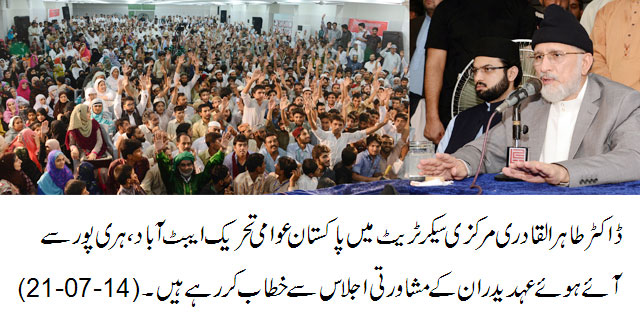 PAT chief Dr Muhammad Tahir-ul-Qadri has said that those who talk of mid-term polls actually want to keep the current corrupt, and exploitative political system intact and alive, while contrarily PAT wants to put an end to this oppressive system through peaceful, green revolution. He said that he was fighting for restoration of rights of 180 people where everyone could have shelter, food, clothes, education, health and socio-economic justice. He said that strict and merciless accountability would be conducted after the revolution and every looted penny of the nation would be returned to it.
PAT leader Dr Tahir-ul-Qadri expressed these views while addressing over 5000 workers of PAT from Haripur, Hazara and Abbottabad the other day. Dr Raheeq Abbasi, Sheikh Zahid Fayyaz, Ahmad Nawaz Anjum, Sajid Bhatti, Qazi Faiz, Iftikhar Shah Bokhari, Mushtaq Suhrwardi, and Farhat Shah Bokhari were also present on the occasion.
Dr Tahir-ul-Qadri said that necessary items such as flour, sugar, pulses, ghee, clothes and other stuff would be given to the masses on subsidized rates at half of the original price during the first 8 months after revolution. He said that 50 million acres of land would be distributed among the landless peasants during the first 3 months. He said that the people would begin to reap benefits of revolution within days.
Dr Qadri said that in accordance with Article 140 of the Constitution, 35 provinces, 150 district councils, 850 town governments, and 6500 union councils would be established after revolution. He said that new administrative structures would be introduced wherein town/village would consist of every 500 people, tehsil councils of every 50,000 people, and urban tehsil councils of one lack population. He said that about 10 million people would man new administrative structures from the lowest level to the highest level for resolution of people's problems.