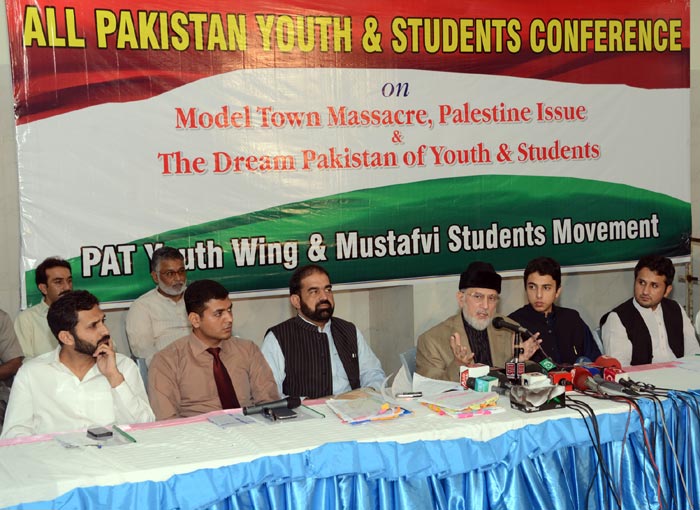 All-Pakistan Students and Youth Conference was held on Tuesday under the banner of PAT Student and Youth Wing in the central secretariat in Model Town, which was attended by representatives of all youth organizations and student bodies from across Pakistan.
Addressing the Conference, PAT leader Dr Muhammad Tahir-ul-Qadri said that OIC had become a dead horse. He said that the Israeli brutes had killed over 600 innocent and unarmed women, children and men of Palestine but the world community was too insensitive and numb to act fast to rein in Israel. He said that inaction of the world community was condemnable.
Dr Qadri made it clear that an honest, credible, competent and courageous leadership was required to unify the disparate Muslim world that could play the role of a bridge and gather the international community against demeaning oppression on Muslims. He said that Pakistan would lead the countries of the third world after revolution. He said that corrupt elements in bureaucracy and police would be replaced by educated youth in an attempt to enable them to take active part in the nation-building. He said that youths and students would be the front-runners in the struggle for putting Pakistan on the trajectory of socio-economic development after revolution. He asked the students to play the same role during this struggle to save Pakistan in the same manner and with the same passion with which they worked to establish Pakistan under the leadership of the Quaid-e-Azam.
Dr Tahir-ul-Qadri said that according to Article 5 of the Constitution, the social contract had broken down due to the rulers' failure to confer rights to the masses. He said that the people would now kick out the rulers through revolution. He said that irrespective of whichever party the students belonged to, they could still play meaningful role in elimination of repression, corruption, state terrorism, barbarism and brutality from the country as a unified force. He urged them to perform their national duty to save Pakistan while remaining in their respective parties, adding that if they did so, they could become agent of change in national politics, which would augur well for the country.
Dr Qadri said that the Muslim world suffered from leadership crisis at the moment. He said that the Muslims needed a leadership that was honest and courageous to steer them out of raging crises they were stuck in. He said that democracy did not exist in the country, highlighting the fact that confining concept of democracy to merely holding polls was erroneous. He said that elections were merely a tool to put politicians in positions of power, adding that real test of a democracy was to deliver to meet expectations and aspirations of the electorate. He said that such a system of democracy would be introduced after revolution that would automatically throw out the corrupt elements out of power. President of Youth Wing Shoaib Tahir, Irfan Yousaf, Sunni Ittehad Council's Arshad Munir Mustafai, Jamiat Talaba-e-Islam's Abdul Hameed, and PML-Q's Shahzad Mughal also addressed on the occasion.
The parties that attended the Student and Youth Convention included:
Pakistan Muslim League-Q Youth Wing, All-Pakistan Muslim League Youth Wing, MQM Youth Wing, Pakistan Tehreek-i-Insaf Youth Wing, Jafaria Youth Organization, Wahdat Youth Pakistan, Imamia Students Organization, Muslim Students Federation, All-Pakistan Muttahida Youth Organization, Islami Jamiat Talaba, Anjman Talba-e-Islam, National Youth Assembly and Al-Muhammadia Students Organization.
Joint declaration adopted at the Conference is as follows:
All-Pakistan Student and Youth Conference strongly condemns Israeli aggression against Palestine. It demands of the government of Pakistan to play its role to bring its pressure to bear upon the international community to stop the Israeli barbarism.
 
Model Town tragedy is the failure of the present government, which is responsible for this terrorism. It fired live bullets hundreds at unarmed and innocent civilians, and killed over dozen of them besides injuring over 100 people.
 
Non-registration of the victims' FIR is a proof of the government's ill intentions. The government and administrative officials should immediately tender their resignations by accepting responsibility of the unfortunate incident.
 
Model Town tragedy is not specifically a matter related to one political party. Rather it is an issue of every organization and party as it is a humanitarian issue. All Pakistanis should get united on this issue.
 
Pakistan's current political system has failed to resolve people's problems. Price hike, unemployment, corruption, plunder and ignorance have been increasing as a consequence of that and the government that got elected on the basis of rigging is responsible for putting the country into the worst conditions in which it finds itself.
 
Pakistan's youth and students want the kind of country where the Constitution is implemented in letter and spirit; where they do not have to migrate to foreign lands nor tear their degrees.
 
Pakistan's students aspire for the kind of country where every poor man gets house, and employment; where there is no price hike and the poor get free medical treatment and are exempted from rigorous taxation; where every child gets free education up to matriculation; double standard of education is done away with and the system is replaced by uniform education for all; where the farmers get land free of cost for the purpose of cultivation; where disparity in pay structures of employees in public and private sectors is eliminated and where Pakistan is rid of sectarianism.
 
Pakistan's students and youth want the kind of country where they could play the role of guarantors of its progress and prosperity. The present government has miserably failed and revolution has become inevitable.