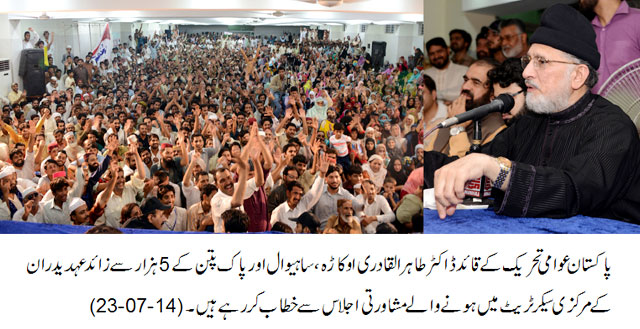 PAT leader Dr Muhammad Tahir-ul-Qadri has said that implementation of Article 38 both in letter and spirit is the real revolution we aspire for. He said that basic facilities such as education, health, jobs, food, and shelter would be available to all citizens without any discrimination after revolution. He made it clear that there was no democracy in the country, adding that democracy was all about people's free and unhindered participation in national affairs. He said that fruits of democratic governance would reach the common man at his doorstep.
Dr Tahir-ul-Qadri stated this while addressing a consultative meeting of over 5000 PAT workers belonging to Okara, Sahiwal and Pakpattan districts here at the central secretariat on July 23. Dr Raheeq Abbasi, Sheikh Zahid Fayyaz, Bashrat Aziz Jaspal, Fayyaz Warraich, Iftikhar Shah Bokhari, Ain-ul-Haq and others were present on the occasion.
Dr Tahir-ul-Qadri said that the corrupt rulers established a huge business empire in 30 countries of the world with the looted money from Pakistan and had been filling their accounts in Swiss banks through money laundering. He said that the rulers usurped loans of worth billions of dollars, adding that no audit of these loans was carried out. He said that the revolution would lead to riddance from political and economic terrorists and the put the country back on the trajectory of socio-economic development.
Dr Qadri said that the rulers had been using the Constitution as a plaything, further saying that they had kept around 76% of people robbed of their right to education. He said that a power cartel consisting of feudal lords, capitalists and industrialists did not allow the Articles 3-40 of the Constitution to be put into practice for last 42 years. He said that it was the job of Parliament to ensure implementation of these constitutional provisions but it had been manned by plunderers, looters, and people with questionable character. He said that the ruling elite enacted 20 Amendments in the Constitution for their political and economic benefit and not a single amendment for welfare of the masses.
He said that revolution will eliminate economic disparity among various classes as there would be no concentration of wealth anymore. He said that every homeless household would be given a 3-marla or 5-marla house, adding that the jobless would get jobs or employment allowance as the case may be.