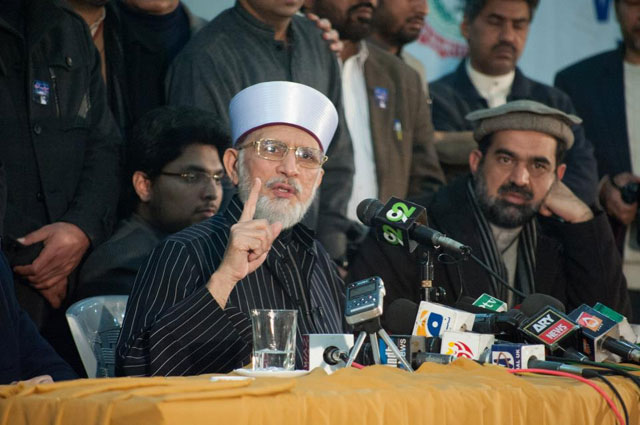 PAT leader Dr Muhammad Tahir-ul-Qadri has said that while mid-term election is the agenda of the politicians, revolution is the agenda of the masses. He said that Nawaz Sharif would not be prime minister of Pakistan on September 01. He said that our movement was peaceful and we strongly condemned violence, adding that his philosophy of politics was based on non-violence. He said that our 32-year old organizational and political history bore witness to the fact that our workers did not throw even a stone on anyone.
Dr Tahir-ul-Qadri stated this while talking to central office holders of PAT in Model Town Lahore. Dr Raheeq Abbasi, Khurram Nawaz Gandapur, Sheikh Zahid Fayyaz, Jawad Hamid, Bashrat Jaspal, Fayyaz Warriach, Qazi Faizul Islam, Iftikhar Shah Bokhari, Ain-ul-Haq Baghdadi, Sohail Raza, Tanvir Ahmad Khan and others were also present on the occasion.
Dr Tahir-ul-Qadri said that 14 people were shot dead and over 100 were injured at the behest of the Punjab government but the FIR of the bereaved families had not been registered so far. He said that Abdur Raoof, in-charge of Elite Force Punjab, confessed that 419 bullets of SMG and 19 bullets of G3 rifles were fired on June 17. He said that the police officials identified by media were taken into custody by the rulers and SHO Sheikh Asim, and constable Riaz Baber were made to go abroad, which had proven the Chief Minister's direct involvement into the Model Town tragedy.
Dr Qadri said that dialogue with the government was not possible until 5-point joint declaration adopted at the occasion of multiparty conference on June 29 was implemented. He said that our whole focus remained on observance of Martyrs Day on August 10 in which the masses would participate in flocks. He asked the people to bring a copy of the Holy Quran, prayer mat and a rosary with them. He asked the workers to deal with the police officials strictly who maltreated them, resorted to violence and committed terrorism on them on the orders of the rulers. He said that lists of such police officers and officials should be prepared.
Dr Tahir-ul-Qadri said that the mid-term elections would not result in any change nor will the poor get back their usurped rights. He said that Nawaz Sharif possessed sufficient quantity of the looted wealth of this nation with which that he could buy ten such elections. He said that if mid-term elections were held, Nawaz Sharif would become political martyr and impose himself again on the nation through rigging.