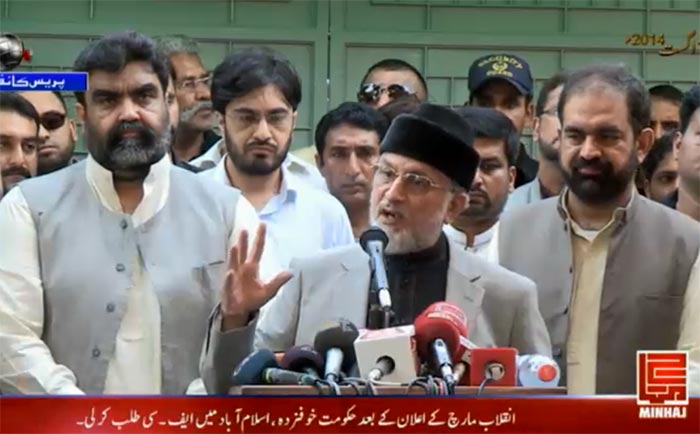 PAT leader Dr Muhammad Tahir-ul-Qadri has said that our 32-year-old struggle has been peaceful. He said that despite the worst repression committed by the Punjab government on June 17, we maintained peace throughout the country and did not get provoked. He said that thousands of people who came to receive him at the Islamabad airport were tortured by police. He said that the Punjab government included hundreds of miscreants in Punjab police to dilute the impact of June 17 incident. He said that Shahbaz Sharif recruited known criminals in the police department in the past, adding that Gullu Butts of PML-N injured the police officials and shifted the responsibility on PAT workers. He said that it was in the same way that hundreds of PMLN Gullu Butts were sent to attack police in Behra and cases had been registered under terrorism charges against our workers by transferring responsibility on them. He told that 25000 workers had been arrested so far.
Dr Tahir-ul-Qadri expressed these views while talking to media outside his residence on August 11. Dr Raheeq Abbasi, Khawaja Ghulam Farid Koreja, Bashrat Jaspal, Qazi Faiz, Raja Zahid Mahmood, Iftikhar Shah Bokhari, Fayyaz Warriach, Dr Zubair and others were present on the occasion.
Dr Tahir-ul-Qadri said that Daily Jang, Daily Nawa-i-Waqat and The News incorrectly reported his statements he made on the occasion of Martyrs Day. He clarified that he had said this jokingly at the end of his speech, adding that one meaning of his statement could be that the masses would withdraw their support from such leader and he would become a political martyr.
He said that PAT finalized the date of revolution march in May and he had informed Imran Khan that PAT would hold its march in August. He said that Imran Khan announced the holding of Azadi march in June while PAT announced it later on August 10 according to their respective party policies. He said that our agenda was aimed at establishing real democracy by eliminating this corrupt, rotten and anti-poor system, whereas Imran Khan talked of change after elections. He said that ten such elections could not change the destiny of the nation. He said that Nawaz Sharif had so much wealth that he could buy these elections easily. He, however, added that one thing both PTI and PAT shared was the need to send present Sharif monarchy home, for without doing so neither could real democracy be established nor people would be made prosperous.
Dr Qadri said that the Constitution of 1973 was not a consensual Constitution anymore because the rulers brought about self-serving amendments in it to protect their vested interests. He said that we would introduce 20 amendments in the Constitution for welfare of the people and restoration of their rights after revolution. He said that the responsibility of two police constables who were killed in separate incidents had been placed on the PAT workers and cases had been registered to such extent. He said that The Nation and other papers reported that one constable, Muhammad Ashraf, died in a road accident on August 08 and died on August 09 in General Hospital, while another constable was killed by firing of robbers. He said the blatant lies and crookedness of Punjab police had been exposed to the world after the reality of these killings surfaced to the fore.
Dr Qadri said that the workers of PAT and PTI would take to the streets on the same day on August 14 and together with Imran Khan, we would rid the nation of oppressive monarchy of Sharif family and rotten system. He said that the days of the government had been numbered. Commenting on the Prime Minister's statement that PAT did not have more than 200-400 votes in each constituency, he said that if it really was the matter, why had the government gone into panicked mode and why had it barricaded the entire province? He asked as to why people coming to attend Martyrs Conference were stopped, tortured mercilessly and shot at directly across the Punjab province? He said that if the Prime Minister was so confident of his mandate and believed in its electoral power, why was he using the brute power of police to suppress protests and why had he become so coward? He asked why he was nervous and confused? He said our 32-year-old history had been peaceful and had a broad-based support. He said that the support base of PML-N had shrunk so much that it had been reduced to a party capable of staging protests before press clubs.