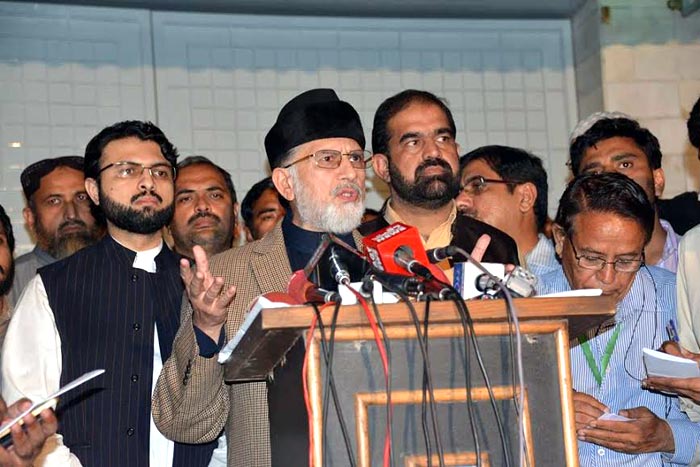 PAT chief Dr Muhammad Tahir-ul-Qadri has made it clear that he has settled in Pakistan permanently and those wishing to see him gone abroad for good will be disappointed. He said that he has already announced a schedule of countrywide sit-ins after Moharrum. Therefore, no one should try to create any misunderstanding on this count. He said that he will go abroad only to activate and organize PAT activities that remain suspended since 2004.
Dr Tahir-ul-Qadri expressed these views while talking to media men at his residence in Lahore on October 25, 2014. He said that after announcement of revolutionary struggle, he will go abroad to organize overseas chapters of his party like other political parties. He said that the nation is a witness that he has come to Pakistan for ever to wage political struggle, change system and restore people's rights. He vowed to go to every nook and corner of the country after Moharrum to make PAT the biggest party of the country.
Dr Qadri said that no one should be bothered about his foreign visit. He said that we will contest polls and will not rest till we bring about revolution in Pakistan. He also made an important announcement on the occasion, saying that PAT will contest all by-polls to be held in the country henceforth. He said that he prays for success of Imran Khan, adding that he will resume countrywide sit-ins after Moharrum.
Rejecting speculations and rumours of a deal regarding end of sit-in, Dr Tahir-ul-Qadri said that there will be no deal on blood of martyrs. He made it abundantly clear that our demand of the Chief Minister's resignation and constitution of JIT still holds for fair investigation. He said that PAT's sit-in was historic event, which gave masses awareness about status quo and anti-people, oppressive system.
He said that our workers give funds and it is our principle that we do not spend fund of MQI on political activities. He said that raging sea of people in Haripur who came out on a notice of a few hours expressed their no confidence in corrupt system. He further stated that Islamabad sit-in brought about change in the thinking & mindset of people. Sit-in has not ended. Rather it has expanded into a countrywide movement, he concluded.