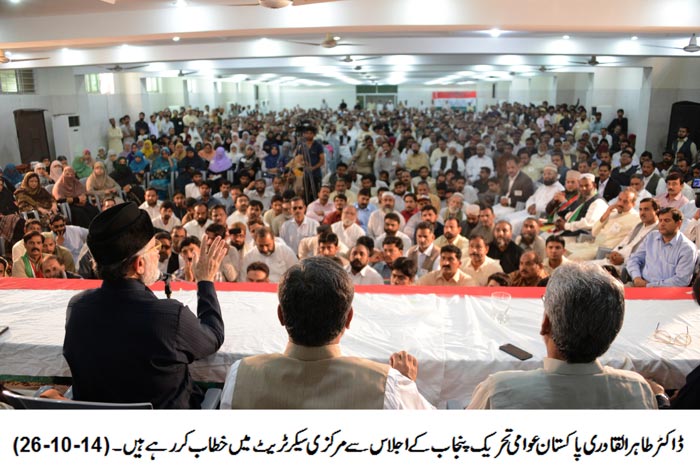 PAT chief Dr Muhammad Tahir-ul-Qadri has said that massive awareness generated by sit-ins has transformed the dynamics of politics in the country. He said that Pakistan's politics had never been the same after conclusion of about 70-day old sit-in. He said that struggle for restoration of people's rights would continue unabated till accomplishment of the objective, adding that change of strategy and tactics was just natural in a long-drawn-out struggle. He made it clear that it was strategy, not destination, which had changed.
Dr Tahir-ul-Qadri expressed these views while talking to office bearers of PAT Punjab here in Model Town, Lahore today. PAT President Dr Raheeq Abbasi, other senior leaders including Sheikh Zahid Fayyaz, Khurram Nawaz Gandapur, Hanif Mustafvi, Basharat Jaspal, Fayyaz Warriach, Aamir Farid Koreja, Sajid Bhatti and Jawad Hamid were also present on the occasion.
Dr Qadri said that sacrifices and courage of PAT workers have become glorious chapters in the annals of Pakistan's history. He said that these sacrifices would not go in vain and the masses would surely get their rights, adding that PAT would emerge as the largest party of the country.
While reiterating his commitment to rule of law and establishment of real democracy in the country, the PAT chief said that his struggle would continue unabated for supremacy of rule of law. He said that PAT would take part in all elections to change the corrupt system and establish real democracy in the country. He said that PAT would also take part in the by-elections and policy in this regard would be announced in a few days.
He said that candles of hope and awareness lighted by PAT sit-in will be instrumental in removing darkness of negative and self-serving political attitudes in the country. He said that we would leave no stone unturned to highlight and gets those Articles of the Constitution implemented that talk of people's rights. He said that PAT enjoyed massive public support and now no power of the world could stop it from achieving its destination.