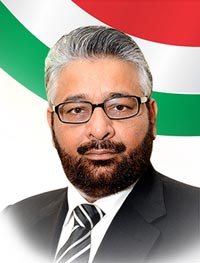 Central Secretary Information of Pakistan Awami Tehreek, Qazi Faiz-ul-Islam, has said that the martyred workers of PAT laid the foundation-stone of revolution with their blood. He said that there was no way any deal could be possible with the government, adding that the blood of martyrs will be avenged in accordance with law of the land and Pakistani courts. He said that the killers will not be able to escape long hand of law. He said that those who described sit-ins as meaningless have their days numbered in power as clear holes have emerged in their ship of power. He said that irrespective of whatever the rulers do, they are destined to drown.
Qazi Faiz-ul-Islam stated this yesterday in his meeting with PAT delegation from Multan in his office in the central secretariat. He said that the fact Joint Investigation Team could not be instituted after registration of FIR against the rulers is another murder of people's rights. He asked as to what kind of system it was in which the one who smashed glasses of cars is behind bars, whereas those who shed blood of innocent people are enjoying power and fruits of jobs.
Commenting on reduction of oil prices by the government, PAT Secretary Information said that prices of POL products have been on the downward slope for quite some time now but it did not have any effect on rulers. He said that the recent announcement of reduction in oil prices is the result of pressure exerted by PAT sit-in, which forced the rulers to give a bit of relief to inflation-stricken people. He said that relief given to masses in oil prices is much less in comparison to reduction of global prices in the world market.
Qazi Faiz-ul-Islam said that the Prime Minister's decision to constitute a committee to probe the issue of over-billing is a joke with the nation. He said that those who robbed people now wanted to snatch their right to life from them. He said that PAT Chairman Dr Tahir-ul-Qadri will return to Pakistan on November 16 and address a public meeting in Bakhar on November 23. He said that PAT will continue to wage struggle for establishment of a national government, strict accountability and reforms. He said that popular support extended to Dr Tahir-ul-Qadri's vision will soon become a strong political force and revolution will be Pakistan's destiny.