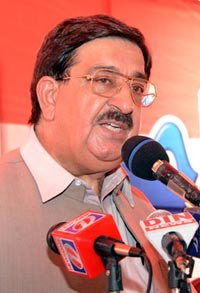 PAT Secretary General Khurram Nawaz Gandapur has held the present stubborn rulers responsible for prevailing political stalemate in the country. He said that investigation into allegations of electoral rigging in general elections and constitution of a neutral Joint Investigation Team (JIT) will give one an idea of whether there is a rule of law in the country or some privileged families hold sway. He said that PTI is justified in take the route of agitational politics after its demands for probe into election rigging were spurned. He said that the rulers not only want to have their cake but also eat it too, which will not be possible anymore.
The PAT Secretary General expressed these views while talking to delegations of party workers and leaders that called on him in his office in the central secretariat on November 30. He said that rulers entertain ill-will, which explains why political crises continue to deepen and are becoming more complex by the day. He said that after Model and Islamabad tragedies, PAT workers have been booked in various trumped-up charges including terrorism and are being maltreated in police stations across the province of Punjab. He said that we would seek justice for every act of repression on our workers including each drop of blood that was shed in Model Town and Islamabad.
Khurram Nawaz Gandapur said that the rulers can go to any limit in perpetrating oppression but PAT would not budge even a single inch from its fundamental demand of neutral and bipartisan JIT. He said that we would wage political and legal battle, adding that it is truth which is victorious in the final analysis at the end of the day. He said that if the conscience of Punjab and federal rulers is clear, then they should not become an impediment in the way of dispensation of justice and allow formation of JIT with concurrence of affected party.
He said that JIT sought by PAT will, of course, by manned by state servants and it is not that it will consist of PAT workers. He said that after investigation by JIT, the case will be heard by competent court of law where all parties will have a legal right to present their point of view freely. If rulers are innocent and have nothing to worry about, then they should trust Pakistan's justice system, he added.