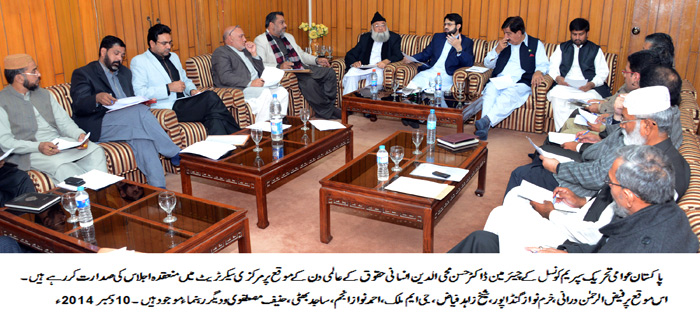 LAHORE: [10-Dec-2014] The Supreme Council Chairman of Pakistan Awami Tehreek Dr Hassan Mohi-ud-Din has said that the government is trying to usurp the basic rights of the masses at gunpoint and bringing a bad name to Pakistan. Addressing the special session at the PAT secretariat on the World Human Rights Day he said that when the chairman of Pat Dr. Tahirul Qadri demanded that the 40 basic rights of the people be given to them, the government got registered 40 cases against him.
Dr Hassan said when parliamentarians from 41 countries were holding a session in a local hotel, a few hundred yards away the Lahore police was beating and torturing blind protestors who were demanding their rights. The parliamentarians who had gathered from all over the world were astonished at the police and state brutalities being meted out on blind people. They were saddened by the attitude the police had shown towards the blind.
Dr Hassan said that on the night between August 30 and 31 the state showered poisonous gas on innocent protestors in Islamabad and fired at them thus violating Article 15 and 16 of the Constitution and arrested scores of innocent PAT workers and framed false cases against them. He demanded that all the innocent PAT workers be released immediately.
The meeting passed a resolution demanding that the government hold Local Bodies election without any delay which have been delayed for the last seven years. The resolution said that by not holding LB polls the government was depriving the masses of their basic right. The meeting condemned the attacks on polio teams all over the country and the government must provide them protection as polio vaccination was a basic right of the people. The meeting demanded the immediate action and arrest of those responsible for the killing of polio worker in Faisalabad.
Dr Hassan said what larger crime could the state commit than the one it committed in Model Town where 14 innocent PAT workers were killed and to date no one has been arrested. He demanded free, fair and impartial investigation into the Model Town incident. He said that all the civil rights societies, organizations and human rights organizations should not restrict their activities to just educating the masses on their rights but rather they should come out against this corrupt system and start a movement against this system and corrupt rulers. He said once the castle of Islam has now been turned into a corrupt state and cracks are visible in this regard.