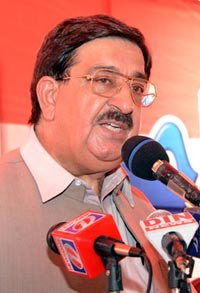 Commenting on the news of PAT chief Dr Tahir-ul-Qadri being declared proclaimed offender, PAT Secretary General Khurram Nawaz Gandapur has said that the PAT chairman has been implicated in fake and baseless cases. He said that all such cases registered on the complaints of the police will get thrown out for being false and truth will triumph over the falsehood. He said that the masses want killers of 14 people to be brought to justice. He said that they are waiting for the day when their challans are submitted in the court of law and their law gets underway.
The PAT Secretary General said that the media cell established at the Chief Minister's Secretariat and Jati Umra with the official resources is busy in smear campaign against political opponents. He said that no tactic of rulers will be able to distract the PAT leadership from his mission of people's revolution nor can the masterminds of Model Town tragedy escape punishment through such ways.
Khurram Nawaz Gandapur said that the details of protest demonstrations will be shared with the masses through a press conference to be held at the central secretariat today. He said that invitation letters are being sent to major political, religious parties, civil society organizations, and human rights bodies for attendance in the demonstrations on December 17. He said that we are also in constant touch with our allied parties. He said that the purpose of the demonstration is aimed at getting justice for the Model Town martyrs. He said that whole nation is convinced that that the worst ever state terrorism was perpetrated on the unfortunate day of June 17 and the blood of the innocent people was shed for no reason. He said that protests will continue till justice is provided to the Model Town victims.