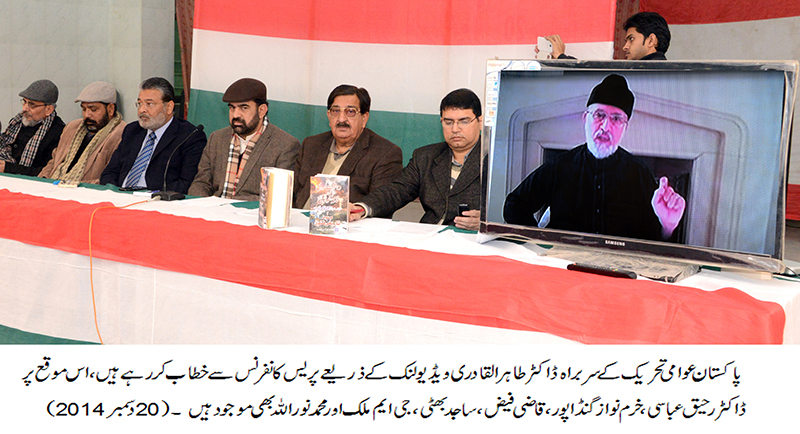 PAT chief Dr Muhammad Tahir-ul-Qadri has announced a 14-point comprehensive strategy for eradication of terrorism in a press conference live from the US through a video link today. He described terrorists and their patrons as the biggest and topmost problem for the country. He said that in order to eliminate terrorists and their supporters:
War against terrorism should be declared as our own war and a joint sitting of Parliament should be convened to adopt a consensus resolution to declare war on terror as our own war.
 
The government should immediately make the names, background, identity, regional connection and other relevant details of those public who were involved in terrorist activities for last 12 years so that the nation could identify their enemies wearing masks. What kind of anti-terrorism is it that the faces of terrorists are masked?
 
Legislation, free of confusion, should immediately be carried out for elimination of terrorism and the act of cooperating with terrorists, supporting and facilitating them and giving statements in their favour should be declared a crime. The punishment of those involved in these activities should not be less than life imprisonment.
 
The roots of terrorism lie in sectarianism, extremism and 'Takfeeriyat'. Ban should be placed on issuance of Fatwa declaring others infidels and strict punishment be prescribed for those indulging in such activities.
 
The judges of anti-terrorist courts who are scared of terrorists should initiate legal proceedings against terrorists in such a fearless and bold manner as they are doing against us. The present anti-terrorist courts are being used for political purposes. They should be replaced by the military courts. The cases against terrorists should be heard in special military courts. One week should be specified for conclusion of a case and one more week should be given for appeal. Terrorists should be given punishments in 15 days and they should be implemented in letter and spirit on time as well.
 
Reforms should be brought about in curriculum and system of religious seminaries. There should be uniform syllabus across the board so that the impression of seminaries being breeding ground of terrorism could be dispelled. A board consisting of moderate scholars should be established to design curriculum and give their recommendations in this regard. There should be strict legal ban on teaching of subjects in seminaries other than the approved syllabus
 
Ban should be imposed on foreign funding going to religious seminaries, organizations and personalities.
 
Peace Education Centres should be established with a mandate to raise awareness to check extremist and militant attitudes so that terrorist groups are not able to exploit or blackmail anyone.
 
Literature responsible for spawning sectarianism, militancy, hatred and terrorism should be banned forthwith.
 
Special anti-terrorist courts, institutions, para-military forces and agencies should be put under the control of the armed forces.
 
The military should be given facilities to deal with menace of terrorism and its budget should reasonably be increased for the purpose.
 
The government should set up special institutions to take care of youth and students affected and even orphaned in terrorist incidents in tribal areas, Balochistan, KPK, Balochistan and other areas where they have sufficient opportunities for their upbringing, maintenance and education. They should be given special scholarships so that they have some kind of employment and live a life of peaceful and productive citizens after completion of their education. Otherwise, there is a possibility that they would end up being in the hands of militants and sectarian institutions and become terrorists and suicide bombers.
 
Poverty, economic inequality, unemployment, and oppression and exploitation are such elements as play a supportive role in promoting terrorism and militancy. Immediate but effective steps need to be taken for economic development of backward areas of the country particularly Northern areas, South Punjab and tribal areas.
 
The ban is placed on the names of defunct organizations but not on the work they do. All such parties and organizations that have extremist ideology and thoughts should be banned and they should not be allowed to operate under changed names. A separate legislation should be done for this purpose. Any office bearer of a defunct organization should not have permission to establish a new organization under a new name.
Dr Tahir-ul-Qadri said that 2025 cases of terrorism are pending in 55 anti-terrorist courts for last 5 years, adding that these cases were required to be decided in a span of a week under the relevant law. He said that Pakistan is the only country of the world where majority of terrorism-related cases are pending. He said that the Chief Justice of Pakistan has rightly called an emergency meeting of senior judges of the apex court to discuss cases related to terrorism. He said that following Peshawar tragedy, it is the Army Chief alone who is seen to be taking hard and solid decisions. He said that kind of decisions and steps the nation expected of their political leadership after heart-rending tragedy in Peshawar have not been seen as yet. He said that the nation fails to understand as to why joint session of Parliament has not been convened as yet? If the longest running session of Parliament could be held during the days of sit-in, why could it not be called now? He said that the joint sitting would have been held on the evening of Dec 16 to decide next course of action. He said that even if the session of rubber-stamp Parliament could have been called to condemn terrorism for the sake of appearance, the world would have got a good impression of us being very serious in our resolve to uproot terrorism from our midst. He warned that if no solid steps were taken now, the incidents such as Peshawar and Model Town tragedies would continue to recur in future as well. These incidents would feed people on hatred and anxiety to the benefit of the terrorists.
Dr Tahir-ul-Qadri said that it is hard and undeniable reality that 55,000 people lost their lives in war on terror but Parliament, judiciary and executive failed to play their role in such circumstances. He said that though it is not time to play politics, yet speaking truth substantiated by evidence is not politics. He said that when the rally of former Prime Minister Mohtarama Benazir Bhutto was attacked on October 18, 2007 in which 139 people were killed, why did we not wake up to the threat over our heads then? He said that 64 people were martyred in two blasts in Wah Ordnance factory in 2008. GHQ was attacked. Our sensitive military installations were the target of terrorist attacks and Wagha border was the latest scene of carnage but why did the eyes of our political leadership not open up?
The PAT leader further said that 92 people belonging to Shiite community were massacred in suicide hits in Quetta on January 10, 2013, why did the eyes of the powers that be not open up? Then 89 people were killed in terrorist attack in Hazara town market on February 16, 2013 but no one was bothered. He said that terrorists have indiscriminately targeted people belonging to all communities, ethnicities, schools of thought and various walks of life and professions. He said that with this background in view, we should now shun academic debates whether this is our war or not. He said that fighting against terrorism is not the military's job alone, adding that every citizen and institution of Pakistan will have to stand by their armed forces to win this battle. He said that a number of countries have recently defeated terrorism and won this war.
Dr Qadri said that if the government tried to sabotage this environment of national unity and solidarity, the nation would mete out the same treatment to the rulers it has shown towards the terrorists. He said that it is our war and it is about time all decisions were taken to win this war. He warned that if we still waver in our resolve, then it would probably be too late. He said that the terrorists violate the law, morality, Constitution and humanity with abandon and soak their hands with the blood of innocent people. He said that when some of them get caught, we start talking of judicial system, human rights, and law. He made an appeal to legal fraternity and the civil society not to get the people in the tangle of legal niceties on the issue of terrorism. He suggested that if some provisions of law hamper the process of awarding punishment to terrorists, the legal hurdles should be replaced by issuance of Ordinance and the terrorists are meted out exemplary punishment.
Dr Tahir-ul-Qadri said that no other political party has such clarity on the issue of terrorism as PAT has. He said that our workers have rendered sacrifices for national objectives and they are ready for future too. He said that PAT is going to take out countrywide rallies to protest terrorism on December 21. He appealed to the whole nation to attend these rallies in large numbers as doing so would send a strong message to the world and terrorist forces that we are not scared; rather our resolve has further become stronger than before. He said that PAT will continue its struggle against terrorism at intellectual and ideological struggle. He said that awareness campaign will be run throughout the country with an objective to raise awareness against terrorism. He said that seminars, workshops and conferences will be held under the aegis of PAT in this regard. He said that national consensus is a must to disrupt and defeat terrorism in the country.