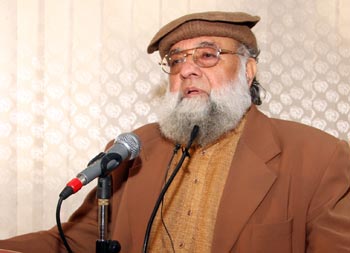 Central Amir of Minhaj-ul-Quran International Faiz-ur-Rehman Durrani has said that the Holy Prophet (SAW) is the founder of justice, equity and fair play in a society. He said that the Prophet's character is a glaring example of interfaith dialogue, tolerance, brotherhood, love and harmony. He said that Rabi-ul-Awal is the best month to strengthen the bond of love with the person of the holy Prophet (SAW).
Faiz-ur-Rehmand Durrani expressed these views while addressing the Friday congregation at the central Minhaj-ul-Quran Mosque yesterday.
He said that though we talk of love, moderation and tolerance, yet we are miles away from the real Islamic teachings. He said that if we sincerely pledge our loyalty to the ideals of love, tolerance, and peace, then we would have to adopt the Holy Prophet's way of life. He said that Allah's blessed men discharge the responsibility of curing the partial or collective disorder of the society in every age, adding that MQI is an international organization of Islamic revival whose main mission is service of the humanity. He said that we would have to join such an organization for reform of our individual and collective life that guides its members along the right path and that of the Holy Quran.