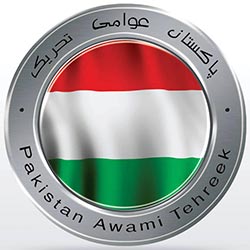 A spokesperson for PAT chief Dr Tahir-ul-Qadri has said that sit-in was suspended temporarily and that it has not been called off. He said that PAT would welcome the move if the Model Town case is sent to the military court. He said that the rulers of Punjab and Islamabad are forcing the PAT workers to take to streets again by continuing with their vindictive actions.
The spokesperson said that Clause 302 has been added to a fake FIR at the behest of the Punjab government which has been registered against Dr Tahir-ul-Qadri. He said that PAT condemns this insertion and rejects all cases registered under the complaints of Police. He said that we want to ask the rulers to stop using anti-terrorism courts for political purposes against their opponents. He said that it is for this reason that people lost trust in these courts and the need for establishment of military courts was felt.
The spokesperson further said if those raising voice against terrorism fall a victim to the government's terrorism, how will terrorism be eliminated from the country? He said that since the day JIT was informed through a written correspondence that PAT would not join investigation, the government has resorted to vindictive action and raids are being conducted against the PAT workers across the province. He made it clear that PAT does not trust any JIT or a department working under the supervision of the government, adding that if the Model Town case was sent to the military courts, PAT would welcome it because it does not expect any justice from government's institutions. He said that why does JIT which keeps on sending PAT notices not call those who killed 14 innocent people?