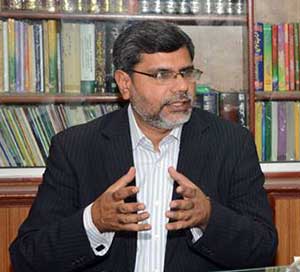 Basharat Aziz Jaspal, President of PAT Punjab, has said that it is a matter of great amazement that the Chief Minister of Punjab has a subsidy of Rs. 15 billion to give to metro bus service annually but literally not even a penny to subsidize the basic necessities of life for the poorest of the poor that constitute about half of the province's population. He demanded of the provincial chief executive to announce subsidy for the underprivileged sections of society.
Basharat Aziz Jaspal expressed these views while talking to media men in the central secretariat of the party in Lahore yesterday. He said that the Punjab government allocated Rs. 15 billion to be given to flour mills as subsidy for provision of cheap wheat, adding that not more than 25% of the allocated amount has been released to date. He said that consequently, it will become exceedingly difficult for the food department, already facing an overdraft of Rs. 100 billion, to give subsidized wheat to flour mills. At the same time, the department will have to go through greater difficulties during purchase of wheat next season.
The PAT Punjab President said that we are warning the government in advance that if it did not release already allocated amount for subsidy for wheat, it will lead to hike in the prices of flour and bread which the poor can ill afford. He said that about half of the population is living below the poverty line in Punjab and the other half cannot afford two square meals a day. He said that if the prices of flour and bread were raised, it would further pave the way for more hunger, destitution and poverty leading to suicides and social crimes. He said that the Chief Minister of Punjab should make the common man focus of his policies instead of wasting public funds on luxurious and wasteful schemes.