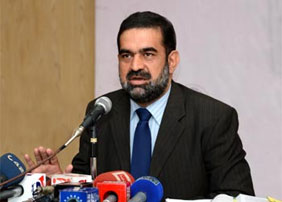 Central PAT President Dr Raheeq Ahmad Abbasi has said that the rulers do not like PAT for raising its voice against terrorism. He said that police is harassing and intimidating our workers on the 'general instructions' of the provincial government and stopping us from working. He said that police force of two stations attacked PAT reorganization camp in Okara and tortured our workers. He warned that if any more terrorism of this kind took place, Inspector General of Police will be responsible for it.
Dr Raheeq Abbasi expressed these views while addressing workers convention in DG Khan on January 28. Earlier, he was received warmly by local PAT leadership on his arrival on the first leg of seven-day tour of South Punjab. The reception party included, among others, Sardar Shakir Mazari, Riaz Lalyani, Saeed Mustafvi and Raja Nadeem etc.
Dr Abbasi said that only the current rulers of Punjab are responsible for deprivations of the people of South Punjab who have money for construction of Ring Road, Raiwind Raod, and metro bus service but no money for provision of employment opportunities, clean drinking water of the people of South Punjab. He also read out Dr Tahir-ul-Qadri's special message on the workers.
The PAT President said that PAT would launch development work of the province from the South Punjab after coming into power and those who committed injustices to the people of South Punjab would be held accountable for their acts of omission and commission. He said that PML-N got a resolution adopted by Punjab Assembly three years ago wherein it pledged to establish South Punjab as a separate province, asking that at a time when they have government both at the federal and provincial levels why are they not fulfilling their promise?