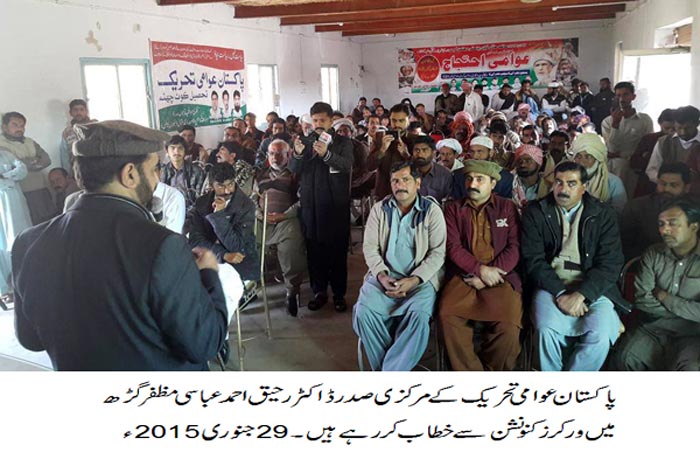 Central PAT President Dr Raheeq Ahmad Abbasi has said that no noble person can work with the Sharif brothers. He said that when former Governor Punjab Ch. Sarwar raised his voice against occupation of the country by various mafias, the whole PML-N got after him. He said that Ch. Sarwar has been holding a senior position in the government's set-up, adding that he described what he saw with his own eyes. He said that the press conference of the former Governor is tantamount to a charge-sheet against the government. He said that PAT chief Dr Tahir-ul-Qadri has already unveiled these secrets and exposed the demons in the cupboard of the rulers before the nation.
Dr Raheeq Ahmad Abbasi expressed these views while addressing workers convention in Muzzafargarh on January 29. Sardar Shakir Mazari, Qamar Abbas, Iftikhar Qureshi Advocate, Haji Bashir Ahmad and others were also present on the occasion.
The PAT President said that the PML-N has backtracked from its promise of making South Punjab a separate province. He said that the social contract between rulers and valiant people of South Punjab has broken down for all intents and purposes and the Sharif brothers have lost their right to govern. He said that time to transfer power to the masses, real stakeholders in the system, has come. He said that while these rulers have money for so-called mega projects such as metro bus service, they have no penny for employment, health and clean drinking water. He said that people have lost all their confidence in the rulers over their 'gifts' of recurring crises to them.
Dr Raheeq Abbasi said that after Allah Almighty, people are the source of all power. He said that power is a sacred trust which people hand over to their elected representatives so that they could deliver their fundamental rights to them on their doorstep. He said that the oppressive rulers have violated the sanctity of this trust. He said that they have deprived the masses of their rights and undermined the state institutions by using power for advancement of their personal interests. He said that South Punjab has been neglected badly during the stints of Shahbaz Sharif in power.
The PAT President said that there is no electricity in power system, no justice in police stations and stomachs of masses are empty and the Chief Minister has been thinking of grandiose plans of running metro buses. He said that the province of the Punjab's ruler starts from Gajumata and ends at Shahdara. He said that PML-N will not be able to retain even GT Road in the next elections. He said that when the rulers suspend the rights of the people, they have a right to wage peaceful struggle to oust them from power.