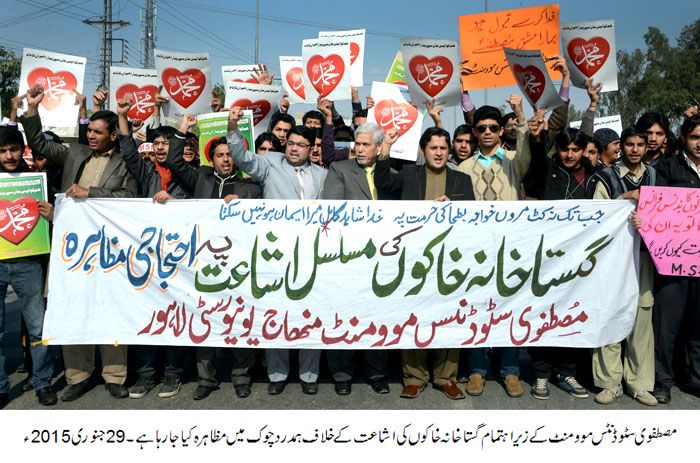 Chaudhry Irfan Yousaf presented a five-point declaration on behalf of PAT and MQI on the occasion.
We condemn publication of blasphemous caricatures in the strongest possible words.
Such incidents are conspiracy to play followers of one religion against another and sabotage the global peace.
The UN, international institutions, human rights organizations and influential countries are asked to play effective role for legislation to check the repeat of such incidents in future as well.
Blasphemy of founders of all religions should be declared as a crime at international level. The government of Pakistan should seek guidance from the letter Dr Tahir-ul-Qadri has written to world leaders and play its role accordingly.
The government of France and the world community are urged to proceed against those involved in this heinous crime for committing terrorism and violation of UN charter and human rights so that no extremist dares do such things in future as well.
A protest demonstration was taken out against publication of sacrilegious caricatures from Minhaj University campus to Hamdard square, Township, Lahore, under the banner of Mustafvi Students Movement (MSM). The demonstration was attended by students of Minhaj University, workers of MSM, MSM-Sisters, PAT Youth Wing and representatives of various student organizations. A resolution was adopted at the demonstration calling for blasphemy to be declared as a crime against humanity.
Addressing the participants of the demonstration, MSM President Chaudhry Irfan Yousaf said that the concept of freedom of expression is not absolute and there are certain limitations to this right. He said that one's freedom ends when one encroaches on freedom of others. He said that on the one hand, efforts are being made for establishment of global peace on durable basis and conspiracies are being hatched posing challenges to the peace on the other through such heinous acts. He said that the act of publication of caricatures has hurt the feelings of billion plus Muslims around the world and sent a wave of concern across the whole of civilized world.
The MSM President said that blasphemy of holy personages is a form of terrorism and no religion can support such act. He said that there is a need to move beyond expression of condemnation and take practical steps to stem such reprehensible actions. He said that the world has become a global village, adding that a heavy responsibility rests on the government of France to bring all involved in this heinous crime to justice and mete out exemplary punishment to them in the interest of global peace and harmony.
Abdul Amar Manan, Qasim Awan, Dr Mukhtar Azami, Shahid Nafees, Furrakh Islam, Abdur Rehman, and Owais-ur-Rehman Advocate were also addressed the participants of the demonstration.