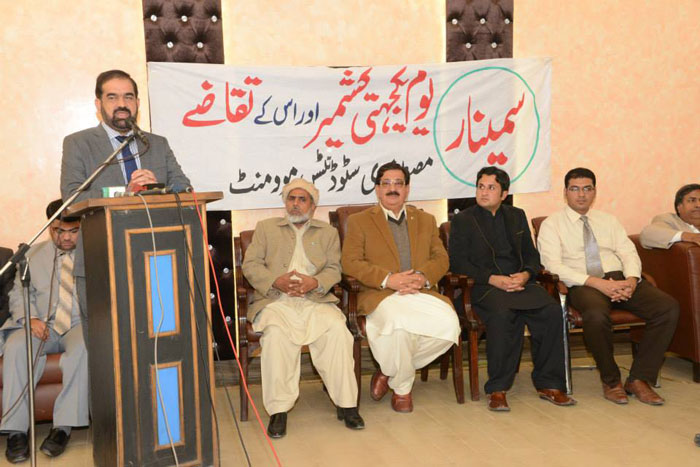 Addressing a seminar held under the banner of PAT to mark the Kashmir Solidarity Day on February, central PAT President Dr Raheeq Ahmad Abbasi said that real democratic and popular government believing in justice can play an instrumental role in getting the age-old Kashmir issue resolved. He said that we cannot move forward without understanding the new realities at regional and global levels and becoming well conversant with them. He said that private Jihad created problems for indigenous people-driven movement for freedom, adding that the fact that the Kashmir issue has gone on the backburner of the world community represents failure of Pakistan's foreign policy.
The PAT President said that Prime Minister Nawaz Sharif did not go to Azad Jammu and Kashmir to express solidarity with the people. Rather he went there to reorganize the local PML-N chapter. He said that while being there, he announced the construction of a road, adding that solution of every national problem in the eyes of the Sharif brothers is construction of motorways and metro bus services.
Dr Raheeq Abbasi expressed these views while addressing the seminar titled 'Kashmir Solidarity Day and its requirement' in Lahore on Feb 5. Central MSM President Irfan Yousaf, Prof Saeed Asad, Abdul Ammar Munam, Haider Arshad, Dr Mukhtar Azami, and Hanif Sandhila also spoke on the occasion.
While addressing the participants of the seminar, PAT Secretary General Khurram Nawaz Gandapur said that struggle for freedom of Kashmir is basically the movement for completion of unfinished agenda that has been hanging fire since the partition of sub-continent. He said that solution of the Kashmir issue is inevitable for both countries to have normal bilateral relations. He said that PAT chief Dr Tahir-ul-Qadri has always emphasized the fact that Kashmir issue will not be solved through rabble-rousing, emotional sloganeering or protest demonstrations. Rather strong legal position will have to be taken at international level for this purpose. He said that this presupposes honest and courageous leadership and a really representative government to bring the Kashmir issue back to international agenda.
The PAT Secretary General said that the rulers always remember Kashmir issue when India spurns their unilateral offers for friendship. He said that there is no better and more suitable leader available in Pakistan than Dr Tahir-ul-Qadri to plead the Kashmir case cogently and forcefully.
Dr Saeed Asad said that the Kashmir issue never figured anywhere on the agenda of various governments for decades nor was it raised at the UN forum effectively. He said that mere lip service is not enough to liberate Kashmir. There is a need to go beyond that. He said that the Kashmiris need to be consulted as to what they want. He said that Kashmir is divided into three factions and the unity will have to be forged in their ranks.
Central MSM President Irfan Yousaf said in his remarks on the occasion that Kashmir runs through blood of every Pakistani. He said that it pains one to see the rulers' insensitivity towards the Kashmir issue. He said that establishment of durable peace is not possible without resolution of the Kashmir issue.
Mustafa Rasheed, Chairman of Pasban, said in his speech that it is important to send the present corrupt government home for liberation of the Kashmir issue. He said that Kashmir is jugular vein of Pakistan and we would not rest till we get it freed. Shoiab Tahir said that Pakistan is fighting a war for elimination of terrorism and extremism and all regional countries including India should not throw spanners in its works. He asked the regional countries to play their role for peace.