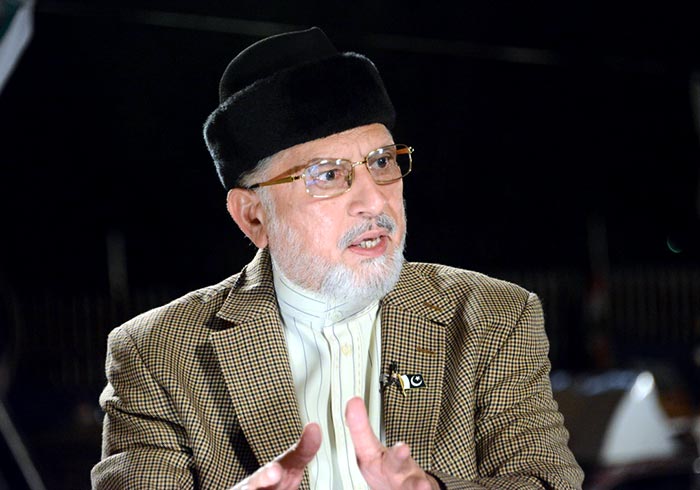 PAT chief Dr Muhammad Tahir-ul-Qadri has said that alleged deal of $21 billion clinched with Qatar should be made public and judicial investigation should be held into criminality of selling electricity at the rate of Rs. 16 per unit whose generation cost is 11 paisa per unit. He further demanded that money fleeced from people through over-billing should be returned to them through decrease in the electricity tariff. He said that it pains one to see when those who conjure up innovative ways of looting the people every day call themselves people's servants. He said that studied silence of the Election Commission on rigging in elections of Senate and GB legislative assembly is regrettable. He said that the Chief Election Commissioners have definitely changed but the system of rigging remains intact.
Dr Tahir-ul-Qadri expressed these views while talking to central media cell on telephone yesterday. He said that the Punjab Chief Minister has conducted clandestine visits of Qatar and therefore it has become all the more important to hold an audit of LNG deal. He asked if the deal is national, then why were the Chief Ministers of Balochistan, KP and Sindh not seen to be visiting Qatar for the purpose?
Dr Qadri said that those who held the participants of sit-in responsible for destruction of economy are responsible for it themselves. He said that those who have been in power for three stints do not have even a bit of idea about economy, adding that the Finance Minister is unable to manage economy and new loans of Rs. 651 billion taken during the first six months of current fiscal year represent the failure of the government. He said that national highways and crops to be produced in future have been mortgaged.
Dr Tahir-ul-Qadri said that the rulers bereft of vision and competence have plunged the country into trap of foreign loans and hard work of two generations is required to steer the country out of this trap. He said that the benefit of reduction in POL prices was not fully transferred to the masses and the rulers have now embarked on new ways to bring about changes in prices of POL products. He said that if the POL prices were increased again, it would hit the low-income groups dearly. He expressed his deep sense of grief on the passing away of former Chief Justice (r ) Baghwan Das. He said that the late Justice was a competent, hard working and patriotic judge.