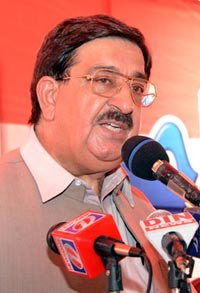 LAHORE: [11-03-15] The Pakistan Awami Tehreek has demanded that Lahore be handed over to the Rangers for an Operation Cleanup as over 50,000 dangerous criminals are operating under the umbrella of the police who are providing them full protection and these criminals are used to eliminate political opponents.
This was stated by the secretary of PAT Khurram Nawaz Gandapur while talking to delegations from Islamabad, Kasur, Faisalabad and other cities here on Wednesday. He said that the worsening law and order situation in Lahore is only because of these criminals and the recent press conference of former Punjab Governor is proof of the fact that police is behind all the crimes taking place in Lahore.
He said that in three months the police conducted over 10,000 raids which is an eye opener for all and since 2008 these criminals have been given a free hand in Lahore. He said that one can now understand why the people who opened fire on the Model Town PAT rally killing 14 people have not been arrested as yet. He said till those who are sponsoring these criminals are not arrested the law and order situation in Lahore cannot be brought under control.
Khurran Nawaz Gandapur said that how can peace come to the province where the ministers supervise raids on police stations, are responsible for illegal land grabbing and openly manhandle anyone they feel like without the fear of arrest or prosecution. He claimed that until the present Chief Minister and the PML-N are ruling Punjab no one should even think that the crime graph in the province will come down and terrorists will be apprehended. Police does not fear anyone or any prosecution and the courts are helpless in front of them. He said for the success of the National Action Plan the Province must be handed over to the Army and Rangers.