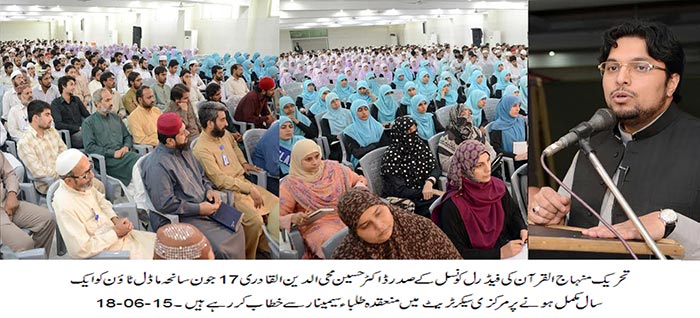 Dr Hussain Mohi-ud-Din Qadri, President of MQI Federal Council, has said that the Model Town tragedy is the worst incident of human rights violations. He said this tragedy will pave the way for elimination of oppression and a Pakistan, which is free of exploitation because all political parties of Pakistan, civil society and human rights organizations have refused to accept the heart-rending incident and protested the state brutality very strongly. He said that this culture of violation of fundamental human rights adhered to by the government very religiously is the biggest hurdle in the way of establishment of peaceful and law-abiding society.
Dr Hussain Mohi-ud-Din Qadri expressed these views while addressing the students in the central secretariat on completion of one year of Model Town tragedy on June 17. He said that no one is above the law in civilized democratic, societies but added in the same breath that situation is quite different in Pakistan where law is bent, twisted and maneuvered by the powerful groups that ride roughshod over law, and justice system of the country and that too with abandon. He said that one major reason of penetration of lawlessness, terrorism, and radicalism in Pakistan society is the fact that some groups of people are more powerful than others and no accountability system of the country can net them.
Dr Hussain Mohi-ud-Din Qadri said that the central point of MQI, PAT struggle is to spread the awareness of the rule of law among the masses, enable them to raise voice for their rights, and put up a strong resistance against oppression and violation of rights. He said that it is for this reason that PAT chairman Dr Tahir-ul-Qadri has always challenged the extra-constitutional actions. He particularly stood against the powerful ruling elite for their excesses and oppression against the people of Pakistan. He said that we assure the families of the martyrs and the injured that we will not rest till we get justice for Model Town victims. He also appealed to the institutions responsible for dispensation of justice to come to the aid of the oppressed and weak sections of society, adding that they must act proactively to change this prevalent perception that only the mighty and powerful can get justice in this country. He said that we are proud of the families of martyrs as they rejected all kinds of lucrative offers made by the government and thus chronicled a glorious chapter of sacrifice and selflessness in history. He said that our workers remain steadfast despite oppression being committed on them, adding that no such party can claim to have such committed and ideologically driven workers.