Students vow to continue struggling for promotion of peace & knowledge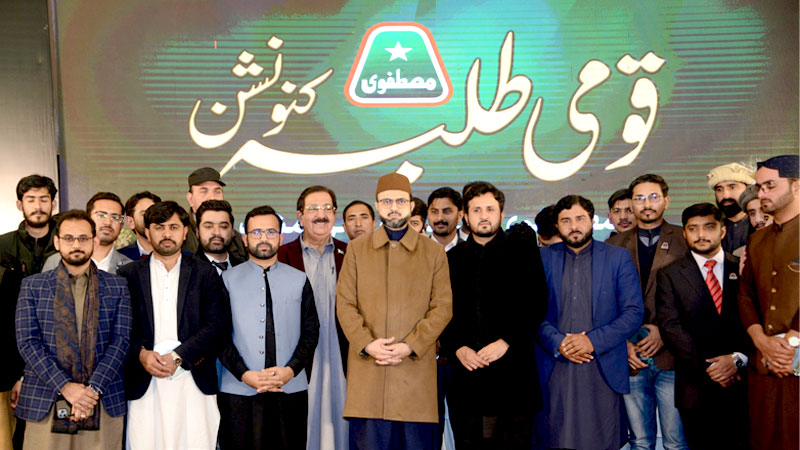 Student leaders have vowed to make educational institutions free of extremism and drugs. They said they would leave no stone unturned to make the seats of learning wholly peaceful and hubs of knowledge.
The student leaders expressed this resolve at a National Students Convention held under the banner of Mustafavi Students Movement (MSM) here in Lahore.
Addressing the Convention as a keynote speaker, Chairman MQI Supreme Council Dr. Hassan Mohi-ud-Din Qadri said that the students can change the destiny of the nation. 'They are the future leaders and ray of hope for our people and we have great faith in their abilities,' he said.
Chairman Supreme Council said that extremism and terrorism constitute a combination of lethal challenges for national security. He said that we are proud that MSM has continued to uphold the mission of spreading knowledge even during the most trying and dire times. He congratulated MSM president Chaudhry Irfan Yousaf for waging a relentless struggle for students' rights. He also announced the appointment of Sheikh Farhan Aziz as the new president of MSM on the occasion.
In his speech at the Convention, Chaudhry Irfan Yousaf said that he worked for the promotion of knowledge, and peace from the platform of MSM for nine long years in line with the vision and training of Shaykh-ul-Islam Dr Muhammad Tahir-ul-Qadri. He said that the struggle for the rights of the student community was also marked by service of humanity and Islam. He said that the standing instructions of Shaykh-ul-Islam have been to hold on to a book and pen, adding that he kept his pledge for nine years and he was satisfied that he was leaving the post at a high note.
In his speech at the Students Convention, MQI Secretary General Khurram Nawaz Gandapur said that MSM has been working for the promotion of the rights of the students for the last 28 years. He said it goes to the credit of MSM that the students associated with it, never took the law in their hands nor did they disturb the campus environment and disrupt education. He said that the students who love peace and knowledge are the future of the nation.
Those who addressed the National Students Convention included Mazhar Mahmood Alvi, Sidra Karamat, Rana Waheed Shahzad, Mohsin Iqbal, Shahid Mustafa, Aziz Alam, Rashid Mustafvi, Dr. Syed Misbah-un-Noor, Chaudhry Moeez Qadri, Mian Ansar Mahmood, Syed Bilal Hassan, Ali Qureshi and Jawwad Ansari.