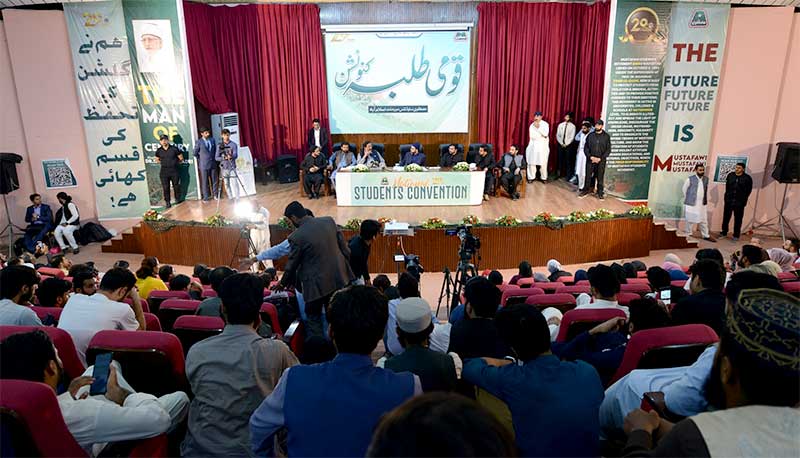 MQI founding-leader Shaykh-ul-Islam Dr. Muhammad Tahir-ul-Qadri has congratulated MSM on its 29th foundation day. He said he always wanted to see pen in the hands of the students, stating that he was happy that they remained committed to their pledge in the last three decades.
In a special message on the festive occasion, Dr. Tahir-ul-Qadri asked the students to make conscious efforts to enlighten their minds with the light of knowledge and spend every moment of their life in acquiring productive knowledge. He said that the future of nations and communities lay in the hands of educated youth. He said that the students belonging to MSM always took part in constructive activities both on and off the campus, something that distinguished the student organization from others.
Chairman Supreme Council Dr. Hassan Mohi-ud-Din Qadri, President MQI Prof. Dr. Hussain Mohi-ud-Din Qadri, and Khurram Nawaz Gandapur greeted the office-holders and members of the MSM family on the body's 29th foundation day.
Meanwhile the 29th foundation day of MSM was celebrated with traditional zeal and zest. Celebratory ceremonies were held across different educational institutions and universities in the four provinces including GB and Azad Kashmir.
Addressing a ceremony held at the central secretariat, MSM President Sheikh Farhan Aziz said that MSM's history of the last 29 years is a witness to its struggle for the promotion of knowledge, peace, and harmony in the country. He said that MSM provided a platform to the students to engage in positive activities and train themselves morally, socially and intellectually. He said that the central foundation-day ceremony would be held on October 8 where Dr Hassan Mohi-ud-Din Qadri would be the chief guest.
The students from the various educational institutions, universities and colleges from Lahore attended the ceremony. Mohsin Iqbal, Usma Mushtaq, Aziz Alam, Rashid Mustafvi, Hussain Nawaz, Hammad Mustafa and others also spoke on the occasion.
Cake was cut at the conclusion of the ceremony and Dua was made.