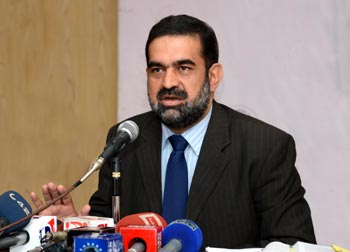 President of Pakistan Awami Tehreek (PAT), Dr Raheeq Abbasi, has said that a campaign of disinformation, false accusation, and slander sponsored by the government will die its own death. He said that time to consign dynastic political order based on loot and plunder to raging waves of 'Nilofer' had come. He said that anti-government protest and movement would pick up pace after the holy month of Muharram. He said that if PML-N and PPP that been enjoying power for last 30 years or so were not held accountable, the country would turn into Thar and Cholistan.
PAT President expressed these views while talking to journalists, party office bearers, and delegations of political and social parties in the central secretariat yesterday. Khurram Nawaz Gandapur, Basharat Aziz Jaspal, Abdul Hafiz Ch., Ain-ul-Haq Siddiqi, and others were present on the occasion.
Dr Abbasi said that the blood of Model Town tragedy would not go in vain. He said that the last destination of the killers is prison cell and that they would meet their end through law and Pakistani courts. He said that sponsored propaganda could not undermine the courageous and determined PAT workers from their stated goal. He said that millions of PAT workers, both inside and outside Pakistan, were ever ready to sacrifice everything at even a slightest hint of their leader Dr Tahir-ul-Qadri. He said that we had decided to send the corrupt system packing with the power of vote, adding that we would fight status quo forces at every front.