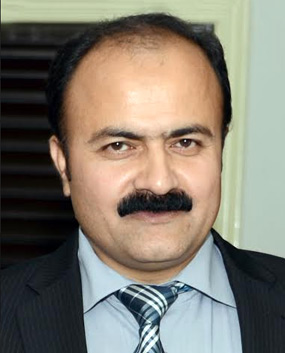 Syed Amjad Ali Shah, Director of Minhaj Welfare Foundation (MWF), has said that the Foundation has completed survey of the affected areas of Tharparkar on the special instructions of PAT leader Dr Muhammad Tahir-ul-Qadri. He said that in addition to dispatching ration, medicines and other things to the affected areas of the disaster-hit district, an immediate work has begun on installation of 1000 water pumps and hundreds of water pumps will be installed in affected areas by the end of December. He said that package being finalized by MWF also includes measures to avoid ill-effects of stink of dead animals that died of drought. He further said that the Foundation would also set up make-shift hospitals in areas stretching over 47000 square miles that would work under the supervision of qualified doctors.
The Director of Minhaj Welfare Foundation expressed these views while talking to journalists in central secretariat of the party. Khurram Shahzad, Tanvir Hamanyon, Mian Iftikhar and others were also present on the occasion. He said that MWF is also ready to host poor children of Tharparkar in Orphan Care Home 'Aagosh' and the Foundation has tasked the Sindh chapter of the organization to collect and compile necessary data for this purpose. He further revealed that consultations are underway to construct a building in Tharparkar on the pattern of 'Aaghosh'. He said that the Foundation has, so far, distributed relief goods worth millions of rupees in the drought-hit district, adding that the project of installing hand pumps in 2600 villages of the district would be completed with the help of the army and other stakeholders in coming few months. He said that mass marriage ceremony will also be held in Tharparkar soon in which girls belonging to the poor households will be married off under the banner of the Foundation, adding that MWF would bear all expenditure of mass marriage ceremony in every respect.
Syed Amjad Shah said that the Prime Minister, provincial Chief Minister and other politicians only woke up to an epic tragedy in Thar and announced aid packages only after Tharparkar deaths grabbed media spotlight. He asked the nation to see that instead of getting water pumps installed and digging wells, photo-ops are being carried out in the name of relief wherein bottles of mineral water are being distributed and a packet of slices are being distributed instead of wheat. He said that these measures do not provide lasting solution to hunger which continues to recur every year. He said that the governments would have to put in place permanent mechanism and take solid steps to overcome shortages of food.
The Director of MWF said that Tharparkar, which sits on huge reservoirs of natural resources, has earned notoriety due to hundreds of deaths of children and animals. He said that the mothers do not fear giving births to children but their lurking deaths as a result of food crisis. He said that cries of wailing mothers get lost in the sands of Thar and do not reach the higher echelons of power in Karachi and Islamabad.
He paid a rich tribute to Pakistani media which did not let the focus on Thar tragedy wane and woke the indifferent rulers from their slumber. He said that unfolding tragedy in Tharparkar is an indictment of the manner governance has been carried out in Sindh where all those holding public offices starting from the Chief Minister down to district officials have escaped accountability due to their connections and political patronage. He said that policy of photo-ops cannot deceive people anymore, adding that concrete policy is required to deal with the menace of drought. He said that the people of Tharparkar need justice. He said that deaths have continued to take place for a very long time but the rulers have been neglecting this state of affairs. He said that the institution of the armed forces is the only institution which has fulfilled its responsibility and came up to people's expectations.