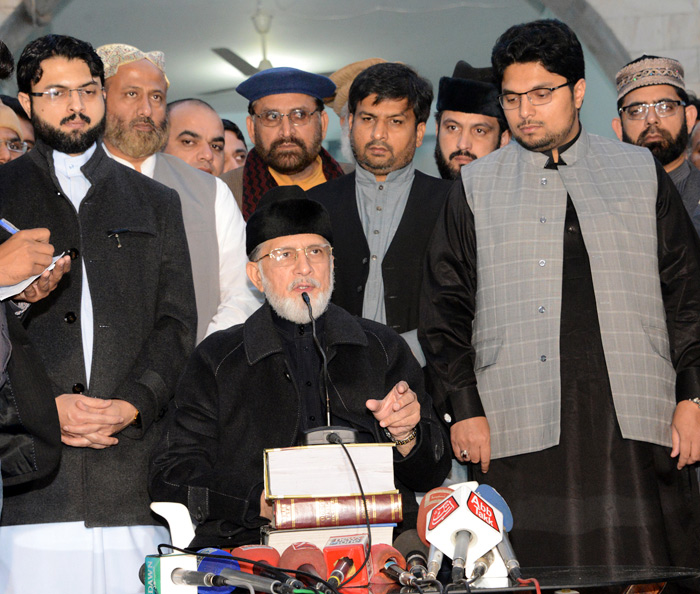 PAT chief Dr Muhammad Tahir-ul-Qadri left for the United States for medical treatment yesterday. Talking to media at his residence before his departure for the airport, he said that he would be among the masses soon after his medical treatment and resume journey of revolution from the same point where he was leaving it. He asked the nation to remember him in their prayers and urged workers to keep their morale high. He stated categorically that a struggle in which PAT does not participate will not be able to succeed. He underlined the need of making joint and concerted efforts to achieve results, adding that all political forces would have to struggle from a joint platform to defeat the forces of status quo.
Throwing light on the government's conduct vis-à-vis Model Town tragedy, Dr Tahir-ul-Qadri asked Nawaz Sharif and Shahbaz Sharif not to entertain any fallacy in regard to their role in the incident. He said that we were not ready to accept that police could fire live bullets at innocent and unarmed civilians for 12 hours without their permission and approval. He said that he considered even the very thought of reaching a compromise with the government as a betrayal and treason with the blood of martyrs of Model Town incident, adding that all rumours of deal have died their own death and those who were involved in such rumour-mongering should seek Allah's forgiveness. He stated categorically that unless the inquiry report of Model Town judicial tribunal is made public and neutral Joint Investigation Team (JIT) is constituted with concurrence of the heirs of martyrs, PAT would never become the part of any 'Tamasha' to be undertaken in the name of investigation.
Dr Tahir-ul-Qadri said that we considered the Punjab government killer of Model Town victims and directly involved in planning and executing the massacre. He said that the judicial tribunal has held the Punjab Chief Minister responsible for Model Town tragedy, adding that it was for this reason that the report was hushed up first and then a stay order was taken on it to avoid pressure for its release. He prayed to the honorable judges of Lahore High Court hearing this case to take over the custody of all record of this case from the government and the record so retrieved from the government should be got certified and endorsed by Justice Baqir Najfi to see whether the Punjab government tinkered with it. He said that the file of 1990 attack on him had already been 'misplaced'. He said that the court should take over the record of the Model Town case before report of judicial commission 'goes missing.'
Talking of 1990 attack, he said that it was claimed that time that the blood was that of a goat, adding that if it was blood of a goat, why was it not used against us in the court of law? He said that there could be no better occasion to malign us than this. He said if at all it was blood of a goat, why were copies of the report not distributed among media? He said that if it was blood of a goat, someone would surely have eaten the meat of that goat.
Dr Tahir-ul-Qadri said that the Canadian citizenship is not a shackle, adding that he would not take a minute to decide on it when the time came for it. Replying a question about the government's offer of providing an air ambulance, he said that it is yet another rumour like many other such speculations spread by the government. He said that if any such offer had been made, he would have rejected it straight away.
The PAT chief left for the airport at 9:15 a.m. due to delay in flight. When he entered airport lounge, a large number of passengers gathered around him. The security officials kept shaking hands with him. Tears came to the eyes of many passengers when they saw Dr Tahir-ul-Qadri sitting in the wheelchair.
At his occasion, Dr Qadri said that Allah Almighty is Master of our lives and as long as he is alive, he would continue his fight to free the poor from the system of oppression. He said that the poor people of Pakistan are his source of strength. He urged the workers to keep their morale high, adding that he would be among them after his recovery.
Before boarding the plane, Dr Qadri led a prayer and directed Dr Hassan Mohi-ud-Din Qadri, Dr Hussain Mohi-ud-Din Qadri and Khurram Nawaz Gandapur to stay in touch with the heirs of martyrs and the injured and extend every kind of cooperation to them. He also directed them not to leave any stone unturned to provide legal aid to those in jails on fake police cases. He said that in all of the sessions of dialogue he had with the government's representatives, none of them had the courage to take up the matter of blood money, what to speak of a deal. A large number of PAT workers and leaders including Dr Hassan Mohi-ud-Din Qadri, Dr Hussain Mohi-ud-Din Qadri, Khurram Nawaz Gandapur, Sardar Shakir Mazari, and Makhdoom Nadeem saw him off at the airport.