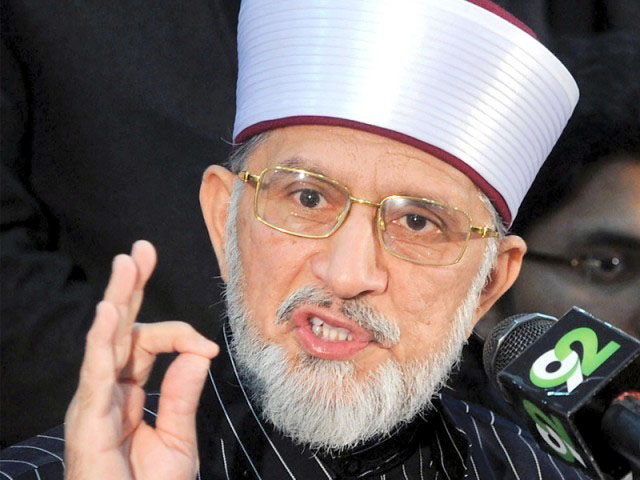 Dr Muhammad Tahir-ul-Qadri, the leader of Pakistan Awami Tehreek, has said that May 11 elections are no elections in the real sense, adding that they are more of a selection than an election according to a carefully drafted script. He said that branding the ritual as democratic elections was tantamount to misinterpretation of facts.
Dr Tahir-ul-Qadri said that the system for whose continuation and longevity elections were held was thoroughly flawed, hollow and incapable of delivering as it was built around interests of privileged few. He said that all political parties were given a share in the cake of power so that none should be able to raise a voice for the rights of masses. He said that perhaps the increase in load-shedding might have been engineered so that instant relief could be provided to the load-shedding stricken people upon transfer of power to the new government.
The PAT leader expressed these views while talking to Imran Khan, anchor of Express News popular programme "Takrar".
He said that an Election Commission, which was composed unconstitutionally and illegally, was not expected to preside over fair, free and transparent elections in the country. He said that it is the same ECP that baptized every tax cheat, every loan defaulter, every fake degree holder and corrupt elements allowing them to contest elections thereby putting a lid on their corruption. He said that these elections were wholly rigged, and all unfair means were used to engineer the pre-meditated results in defiance of all claims of transparency.
Dr Muhammad Tahir-ul-Qadri said that the since the ECP was unconstitutional; all the Election Tribunals established by it were also illegal as the retired judges were appointed to hear appeals in contravention of National Judicial Policy 2009. He said that one-year contracts were handed down to retired judicial officers asking them to play 'according to the rules of the game' or hence they faced the prospect of job losses after expiry of their contracts. He said that the outcome was very carefully and thoughtfully doctored in which everyone was a winner and 'stakeholder' in the bounty.
Dr Tahir-ul-Qadri said that the Election Commission ridiculed the candidates in the name of scrutiny, adding that the questions asked by the Returning Officers made fun of law and the collective intelligence of the nation. He said that he was not ready to become part of such a system nor did he intend to do so in future as well. He said that he was waging a struggle against the system to make it people-oriented.
In reply to a question, Dr Qadri said that he did not know what line of action the incoming government would like to adopt to end power outages in the country but added in the same breath that the resolution of the issue required good amount of time and there was no quick fix solution on the offer. He said that speculation was rife among the people that the duration of load-shedding was being increased to enable the incoming government to earn people's goodwill by reducing it to a bearable level.
Dr Muhammad Tahir-ul-Qadri said that the US needed the kind of political setup which is likely to be in place soon so that its drawdown plan from Afghanistan could move ahead without any problem. He said that such talk emanated during the US Presidential campaign. He said that Saddam Hussein was hanged on the eve of elections to bolster the incumbent's chances of victory.
Dr Qadri said that the present system was the outcome of NRO II and all players knew this fully well. He said that Pakistan could not be free in the real sense unless the decisions taken were home-grown reflecting national interests and aspirations. He said that Pakistan's sovereignty could be safeguarded if the country's economy came out of straitjacket it was stuck up in. He said that he did not nourish any personal grudge against Nawaz Sharif, President Zardari or anyone else. He said that he would give them time and space to deliver and fulfill people's expectations.