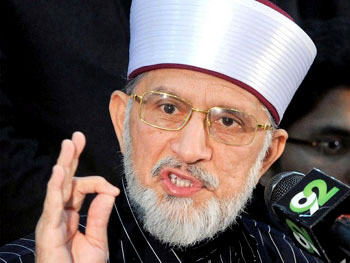 PAT Chairman Dr Muhammad Tahir-ul-Qadri has asked whether Prime Minister Nawaz Sharif went to Katmandu only to shake hands with his Indian counterpart Narendra Modi. He said that the Indian premier wore a somber face purposefully during the course of the SAARC Conference so that he could keep the Pakistani Prime Minister off from speaking on fake elections in Indian occupied Kashmir and violation of international border and exchange of fire along the working boundary, adding that he remained successful in his purpose. He said that if there is an existence of Parliament in the country, it should hold Prime Minister Sharif answerable for his conduct at Katmandu.
The PAT chief offered his Friday prayers at central Mosque Minhaj-ul-Quran. He could not stay for long in the Mosque due to his illness. He, however, waved to hundreds of his workers to enquire after their well-being who had gathered outside Mosque after the prayer. In a very brief chat with them, he said that we would soon be together in our mission of revolution. He said that he would continue to fight against this oppressive and elitist system till the last breath of his life, adding that Allah Almighty and people of Pakistan are with him in his struggle.
In a brief talk with PAT leaders at his residence later on, Dr Qadri directed them to concentrate fully on by-elections in Bhakar. He said that the Punjab government would never want that a revolutionary candidate of PAT should win from there and serve as real opposition in the assembly. He asked the workers to be on guard to detect and expose every kind of rigging and malpractices on the Election Day.
Dr Tahir-ul-Qadri strongly condemned sustained attacks on polio workers in Lahore after Quetta. He asked the rulers to use police and state machinery against enemies of peace and public health instead of unleashing them on the political workers. He also expressed his deep grief on the loss of three precious lives in Lahore in an incident where a school bus carrying children capsized in which three children died and many others were injured. He said that the number of traffic accidents has been on the increase and no strategy seems to be in place to check their incidence and save precious lives.