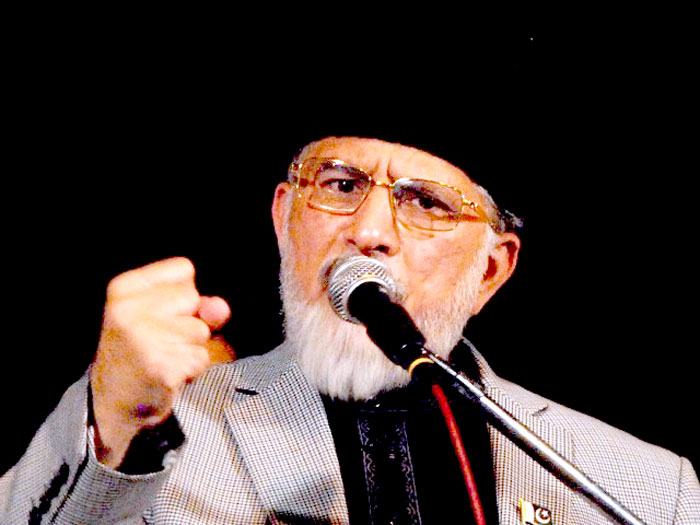 PAT chief Dr Muhammad Tahir-ul-Qadri has said that the Prime Minister, Minister for Finance and Minister for Petroleum are responsible for petrol crisis in the country. He asked as to who can dare conspire against those who already have rich experience of hatching conspiracies. He said that right at a time when there was a need of creating unity among the people against terrorism; they have been embroiled in gas, electricity and petrol crises. He said that had the nation come out for revolution, they would not have to queue up for petrol. He said that prices of petrol took a major plunge throughout the world, whereas it is either not available in the Pakistani market or being sold at a hefty sum of Rs. 300 per liter. He said that those claiming to turn Pakistan into Asian tigers are pushing it into a stone age.
These views were expressed by PAT chief Dr Tahir-ul-Qadri in his telephonic chat to central media cell of the party yesterday. He said that those who committed incompetence and mismanagement that paved the way for petrol shortage in the country should also suggest punishment for themselves. He said that Secretary Petroleum and other top officials who have been removed from their positions have been made scapegoats, adding that big fish are involved in this major scam in recent history.
Dr Tahir-ul-Qadri said that as long as the present corrupt lot will continue to stay in power, the people will continue to suffer uninterruptedly. He said that petrol shortage has affected every segment of society with the result that the children cannot go to schools, hospitals have stopped their operations and even ambulances of Rescue Service and hospitals cannot operate anymore. The life has come to a standstill. He said that the rulers have 'achieved' what the terrorists could not. He said that mothers, sisters and daughters of the nation can be seen standing at the petrol stations holding bottles in their hands and the ruling elite is acting shamelessly.
The PAT chief said that the Interior Minister holds the Petroleum Minister responsible for petrol crisis who then shifts the responsibility to Finance Minister and he looks towards the Prime Minister. He said that the Railways Minister is singing to another tune. He said that this manner of suggestion adopted by the ministers actually points to corruption and the nation has understood the whole game plan. He said that it is strange that the prices of POL products decreased due to increase in supply and abundant availability the world over and it led to a crisis in Pakistan. He said that the rulers who cannot ensure provision of necessities of life, it would be futile to expect of them to rid the nation of terrorism. He said that patriotic and real democratic leadership of the developing countries implemented a strategy to store oil by for development of their economies by benefitting from downward trend of prices of POL products whereas their Pakistani counterparts thought of plans to loot and plunder. He said that recent petrol crisis is the result of nexus between oil mafia.