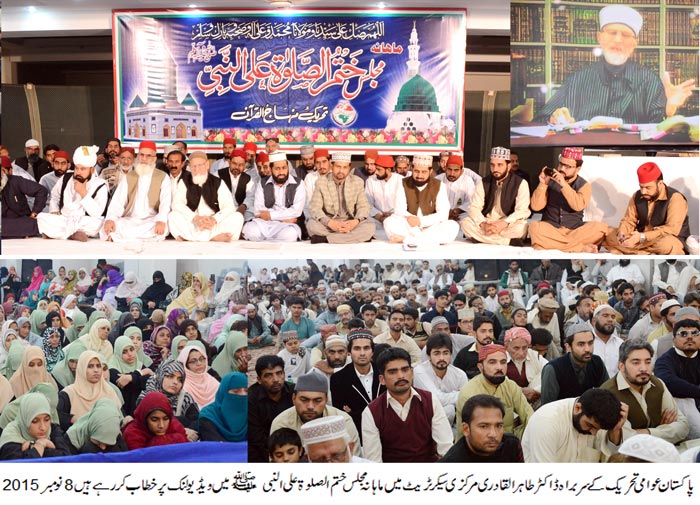 PAT Chairman Dr Muhammad Tahir-ul-Qadri has said that the incompetent rulers have divided the whole nation even on the undisputed personality of Allama Dr Muhammad Iqbal. He said that philosophy of Hakeem-ul-Ummat Allama Iqbal is a sovereign recipe for riddance from every form of slavery. He asked the youth to seek guidance from the teachings of Allama Iqbal for change in oppressive system and putting an end to exploitation and injustice. He said that Allama Iqbal wanted to see the youth equipped with education to get rid of having to pander to others and for formation of a dignified nation.
Dr Tahir-ul-Qadri expressed these views while addressing the monthly spiritual gathering at the central secretariat through video link yesterday. He said that Pakistan came into being as a result of efforts of sincere, dedicated and capable leadership, whereas incompetent, corrupt and ignorant people at the helms have got it shackled in slavery today. He said that Iqbal was a true lover of the holy Prophet (SAW), adding that the Hakeem-ul-Ummat studied the Holy Quran very deeply and furnished guidance to the nation with the blessings of his association with the Divine Book.
Dr Qadri said that the focus of Iqbal's poetry was the youth and he wanted the youth to stay engaged in acquiring modern and religious education simultaneously. He said that this is commandment of Allah Almighty, His Prophet (SAW) and instruction of our forefathers. He directed every worker of the PAT to study the philosophy and teachings of Iqbal very minutely. He said that the workers should create passion for study of religious books in addition to modern-day education so that they can establish themselves on strong footing ideologically.
The PAT Chairman said that the rulers put the people through anxiety when they created a dispute on the holiday to mark the Iqbal Day just to win cheap publicity, adding that such a conduct deserves condemnation. He said that incompetent rulers are weakening the nation ideologically and intellectually by paving the way for disputes and differences even about the national heroes as well. He warned that the nations that change their ideology and create confusion regarding their heroes get the blow. He said that those fond of singing Iqbal's verses have not fitted Iqbal's thought in their character with the result that the nation has been transformed into a crowd today.
Dr Qadri said that philosophy of Iqbal has been confined to literary gatherings of educational institutions under a conspiracy and his universal message remains unimplemented. He further demanded to include the study of Iqbal as a compulsory subject at every level in educational institutions.
Meanwhile, a PAT delegation will present itself at the shrine of Allama Dr Muhammad Iqbal and lay a floral wreath on his mazar on behalf of Dr Tahir-ul-Qadri.