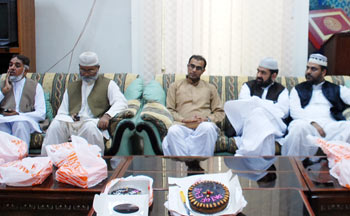 Attended by Nazim-e-Ala Dr Raheeq Ahmad Abbasi, naib Nazim-e-Ala Sheikh Zahid Fayyaz, and Amir-e-Punjab Ahmad Nawaz Anjum as the chief guests, the ceremony marking the foundational day of Mustafvi Students Movement (MSM) was held in the Central Secretariat of MQI on October 6, 2008. Dr Shahid Mahmood, Dr Tanveer Azim Sandhu, Allama Ghulam Murtaza Alvi, Sayyid Ali Raza Rizvi and others were among the prominent guests at the occasion. In addition to the central leaders of MSM, a large number of students participated in the programme.
The proceedings of the ceremony got underway with recitation of the Holy Quran followed by Naat.
In his keynote address, Nazim-e-Ala Dr Raheeq Ahmad Abbasi felicitated the office bearers of MSM, urging the students to keep their struggle intact for revival of spiritual values, science and technology, peace and character. He said the country was up against multiple challenges and the students needed to equip themselves with necessary to tools to play their due role in the bringing the country out of these crises. He asked the MSM to be in the vanguard of such movement aimed at leading Pakistan to the safe shores.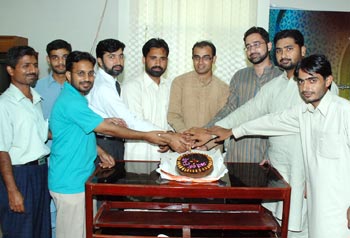 In his talk, the central president of MSM, Zeeshan Baig, said that MSM was the representative organization of the students whose purposes included promotion of mutual harmony, peace and brotherhood in the student community. He said MSM had been able to establish its network in a number of educational institutions in the country.
Central vice president Chaudhry Amjad Hussain Jutt said that projection of peace, security and brotherhood was a must for the spread of educational in the educational institutions. He said there was a need to formulate effective cultural strategy to offset the negative implications of cultural offensive. He said protection of student rights was the foremost responsibility of MSM and no stone will be left unturned to achieve this purpose.
The ceremony concluded with the cutting of cake and special Dua.
Reported by: M S Pakistani
Translated by: Amanat Ali Chaudhry