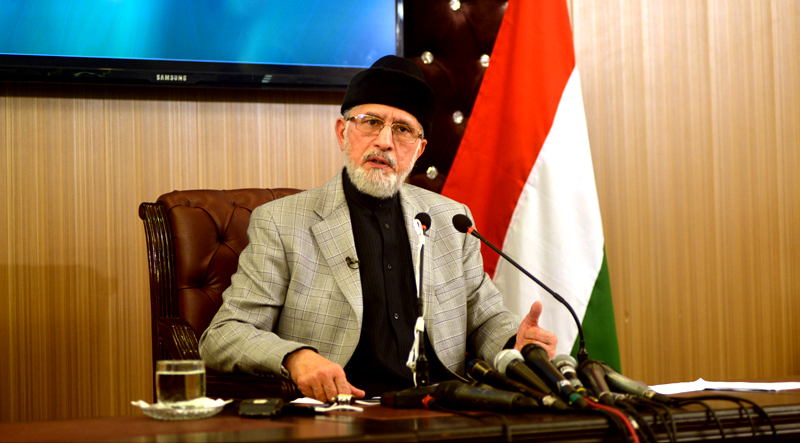 PAT Chairman Dr Muhammad Tahir-ul-Qadri has said that the whole nation and the national leaderships stand shoulder to shoulder with the families of the martyrs of Model Town and now no one can save the killers from their end. He said that after the release of the Najafi report, the killer's mafia has been rendered speechless. He said that it is our prayer and desire that the land of Pakistan becomes unlivable for the killers, oppressors and exploiters during the New Year and it becomes an oasis for the oppressed.
Dr Tahir-ul-Qadri expressed these views while talking to the delegation of MSM that called on him yesterday. Noorullah Siddiqi and Qasim Awan were also present on the occasion.
The PAT Chairman said that Pakistan Awami Tehreek is the not the status quo party. He said that we want reforms. He made it clear that without bringing about political, economic and institutional reforms, the common man will not get his rights and justice. He said that the demand for reforms is not a political agenda but we consider it to be an act of worship. He said that the poor are being oppressed because the system is cruel and predatory, adding that as long as this system stays intact, the common man will continue to suffer.
Dr Tahir-ul-Qadri asked the MSM to convey the message of revolution and reforms to every household. He said that social media is the most power instrument of communicating a message in today's world and it should be used optimally for this purpose.
The PAT Chairman dubbed the successful conduct of APC as a major development towards justice. He said that the whole nation has stood up to oppressors and now they would not be able to get away with oppression. He said that when the martyrs of Model Town are provided justice, it will set a precedent and no power-drunk ruler will be able to play with the lives of the innocent people again.
Meanwhile, Dr Tahir-ul-Qadri has expressed his strong sense of grief and sorrow on the death of Khawaja Muhammad Ashraf, his longstanding companion and Director of Minhaj-ul-Quran Islamic Centre, Karachi. He said that late Khawaja sahib rendered invaluable services for Islam and Pakistan on the platform of MQI and his services will be remembered for long time to come. He was a God-fearing person and true lover of the Holy Prophet (SAW) whose resources and energies were directed at the welfare of the poorest of the poor. He said that the death of Khawaja Muhammad Ashraf has left every MQI worker grieved. He prayed to Allah Almighty to rest the departed soul in peace and grant patience to the family to bear this irreparable loss.