Class-based education increasing divisions in society: Dr Hussain Mohi-ud-Din Qadri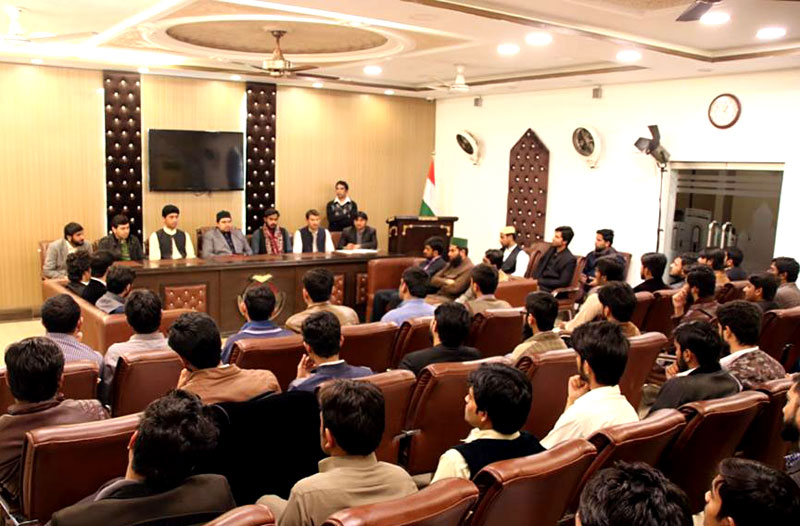 Students of Agriculture University Faisalabad meet Dr Hussain Mohi-ud-Din Qadri
President of Minhaj-ul-Quran International (MQI) Dr Hussain Mohi-ud-Din Qadri has said that due to three streams of education currently in vogue in the country, the class conflict in Pakistan has increased and two Pakistans have been created in the country. He said that on the one hand, English medium educational institutions are producing ruling class and the institutions devoid of basic facilities are churning out illiterate and ruled segments. He said that Pakistan is being pushed back into the Stone Age through a class-based education system in this day and age marked by revolution in information and communication technologies. He said that increasing extremism is the culmination of this class-based education system.
Dr Hussain Mohi-ud-Din Qadri expressed these views while talking to a 60-member delegation of Faisalabad Agriculture University yesterday. He said that educational institutions will have to be purged of every kind of extremism and negative politics in order to achieve peace, moderation and tolerance in the society. He said that teachers, students and society on the whole have a job cut out for them in order to do away with class-based system as this way will lead to elimination of extremism and radicalism in the society. He said that uniform syllabi can put us on the path of moderation and enlightenment.
Dr Hussain said that there are three kinds of educational institutions busy in the task of imparting education at this moment: the public sector institutions that lack basic facilities and are staffed by poorly paid and ill-motivated teachers who continue to struggle to make their both ends meet all their lives; the second kind consists of English medium institutions that charge heavy fees, teach foreign curriculum and promote their way of life and civilization; and the third stream consists of religious seminaries that are engaged in the teaching of sect-based narrow education to their students who have no opportunities to move up on the socio-economic ladder. He said that these three streams of education are further dividing this nation along many lines, pitting each class against the other with the result that the whole society is bearing the heavy brunt of this division.
The President of MQI said that it is the result of this division that we are bogged down in the marsh of extremism, radicalism and terrorism. He said that time has come that each segment of society adopts the Islamic values of brotherhood, unity and tolerance instead of wasting their time on criticizing each other. He said that the educated youth of Pakistan are not getting job opportunities in line with their qualification. He said that Pakistan is the only country of the world with 60% of its population below 24 years of age. He warned that if coordinated policy is not announced for the youth then this youth bulge can become destructive. He further said that the educated youth are the future of Pakistan.
The students of Agriculture University visited different offices of the MQI central secretariat. Senior youth leaders Rana Tajjamal, Younis Noshahi, Mian Anser Mahmood, and Ahsan Ayaz Khethran welcomed the students on their arrival.