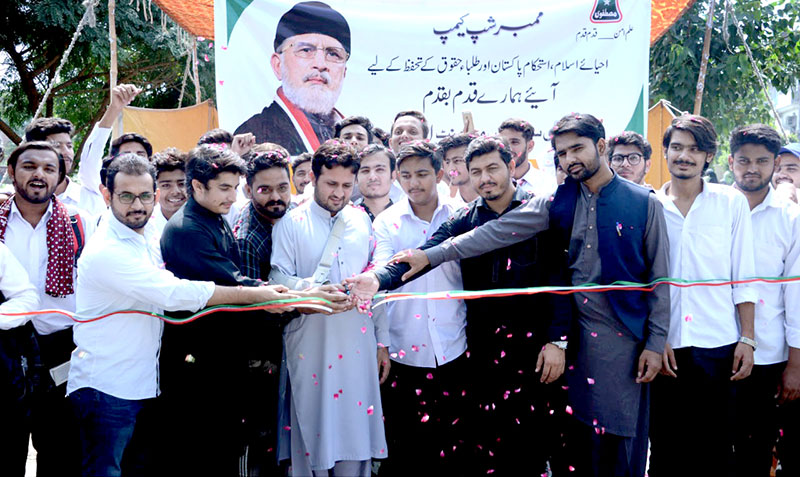 Mustafavi Students Movement (MSM) has launched a countrywide membership drive. The campaign aims to make 50 thousand new members. Central president MSM Chaudhry Irfan Yousaf launched the campaign by inaugurating a camp at Model Town Degree College in Lahore.
Speaking on the occasion, Chaudhry Irfan Yousaf said that MSM is working for the rights of the students and moral and spiritual training of the youth. He said that we want to see our educational institutions purged of drugs, weapons and extremism. He said that the youth play an important role in the building of the nations, adding that for the youth to become aware of their responsibilities, it is important they have access to decent education in a good environment.
Chaudhry Irfan Yousaf urged the students to connect themselves to the pen and book. He said that they have to play an important role in the promotion of positive attitudes and values in society. He said that our students are not as passionately interested in the book reading as they should be. He asked the students to have a passion for the books. He said that the government should set up as many libraries as possible so that the youth are attracted to the book reading. He said that 5% of GDP should be allocated for the educational sector, demanding that there should be a uniform system of education from the first to the 12th grade.
MSM president said that MSM is spreading a peaceful message based on tolerance and love in the society. He asked the students to take membership in the organization. He said that the vision of Dr Tahir-ul-Qadri is central to the promotion of peace. He said no nation in the world can progress without knowledge, adding that acquisition of knowledge should be the foremost responsibility of the students. He said that MSM will continue to wage its struggle for the promotion of knowledge and peace in the educational institutions and a culture of book reading.
Ahsan Ayaz Khitran, Ikhlaq Hussain, Syed Fraz Hashmi, Muhammad Asim, Farhan Khan and a large number of students were present on the occasion.