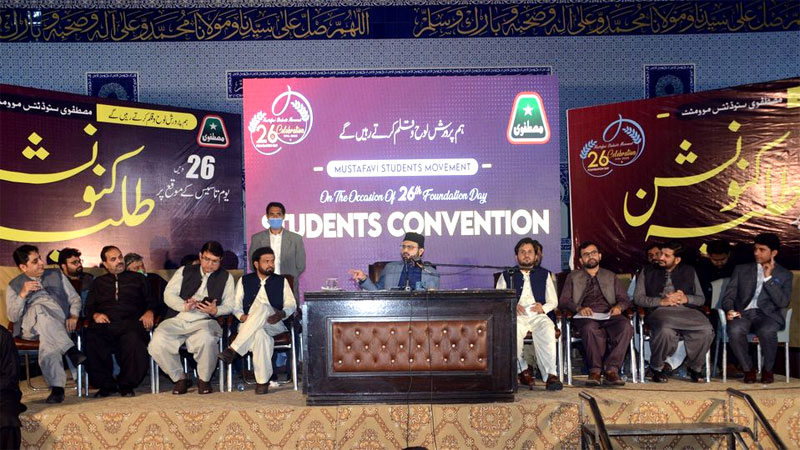 A ceremony was held at the MQI central secretariat to celebrate the 26th foundation day of the Mustafavi Students Movement (MSM). Addressing the ceremony, Chairman MQI Supreme Council Dr Hassan Mohi-ud-Din Qadri congratulated president Irfan Yousaf and his whole team on this historic occasion. He said all the previous and current officeholders and the workers who helped MSM grow and expand into a strong student organization deserve to be lauded. He said if the youth gather knowledge, character, and action, they acquire the identity of being a Mustafavi. He said the Mustafavi character is the right path.
Dr Hassan Mohi-ud-Din Qadri welcomed the student leaders and workers who came all the way from Sindh, Punjab, KP, Kashmir, Gilgit-Baltistan, and Balochistan and said the foundation-day ceremony presented the unity and integrity of Pakistan as people from all the federating units and regions were present in it. He said MSM has given a message of hope and unity to the whole of Pakistan by gathering students from all parts of the country. He said all the objectives of character building for which Shaykh-ul-Islam Dr Muhammad Tahir-ul-Qadri founded the MSM have been fulfilled. He said the knowledge which is the path of purification, promotes humility, and espouses loyalty is Mustafavi.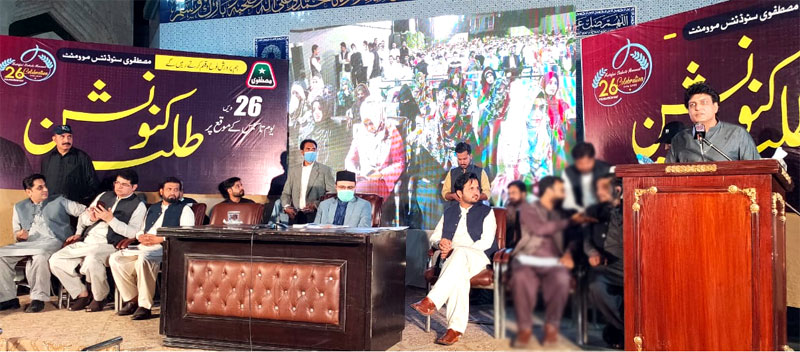 Addressing the ceremony, renowned drama writer, and intellectual Khalil-ur-Rehman Qamar said abusing the corrupt will not make any difference because they are used to such abuses and taunts that hurled at them every day. They will suffer only when they will be held accountable for their actions and dragged into streets for their crimes. He said he is shocked by the fact that how come a nation whose half of the country was taken away could laugh.
Khalil-ur-Rehman Qamar said that when he listened to Dr Tahir-ul-Qadri, he was left wonderstruck that there is a knowledge-friendly personality amongst us in this age of decline. He said knowledge and wisdom have been endowed on Dr Qadri and whosoever has been blessed with this, one should accept him without questioning or fighting him. He said he never gets impressed by anyone in his life and asks others not to be impressed at the same time, adding that he had a one-hour long conversation with Dr Qadri and he was left impressed by his deep knowledge, manner of presentation of arguments, and an extraordinary memory. He said Dr Qadri is the only mainstream leader who is serving the religion by rising above any sectarian affiliations. He prayed for the long life of Dr Tahir-ul-Qadri and said he looks forward to meeting him in person soon.
In addition to Khalil-ur-Rehman Qamar, Farhan Aziz, Mian Anser Mahmood, Misbah-un-Noor, Imran Bhatti, Rana Ahsan Nisar, Fahd Sardar, Mir Ahsan Munir, Ali Qureshi, Ata-ul-Mustafa, Fraz Hashmi, Akhlaq Hussain, Sayyid Bilal Hussain, Qurat-ul-Ain Fatima and Hassan Ali addressed the ceremony.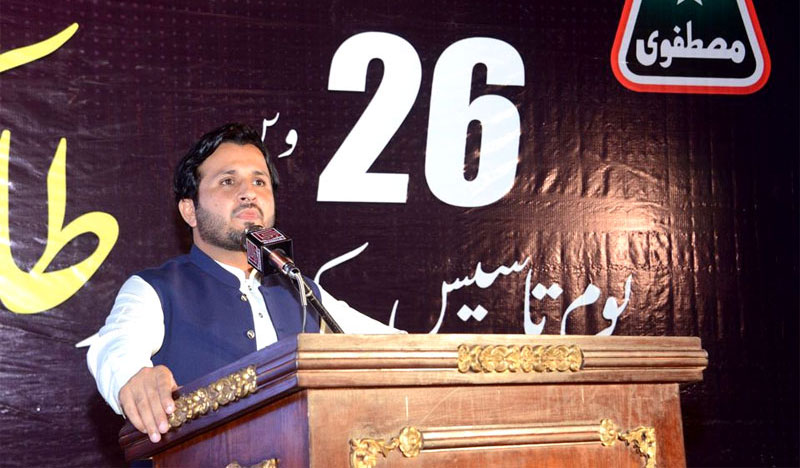 In his welcome note, central MSM president Irfan Yousaf thanked all the guests and the participants for their time. He said MQI is a staunch advocate for moderation, love, peace, and interfaith harmony. He said we must value this age in which Dr Tahir-ul-Qadri is living, stating that a day would come when people would take pride in saying that they saw the age in which Dr Qadri lived. He said Dr Qadri does not make any demands on his workers except that they become true followers of Islam, enlighten their hears of the love of Allah and His Prophet (pbuh) and purify their hearts and minds through prayers.
Those who attended the ceremony included Noorullah Siddiqui, Jawad Hamid, Raja Zahid Mahmood, Mazhar Mahmood Alvi, Shahid Latif, Saeed Alam, Sidra Karamat, Qurat-ul-Ain, Anila Ilyas, Umme Habiba Ismail. A cake was cut at the end of the ceremony followed by Dua.