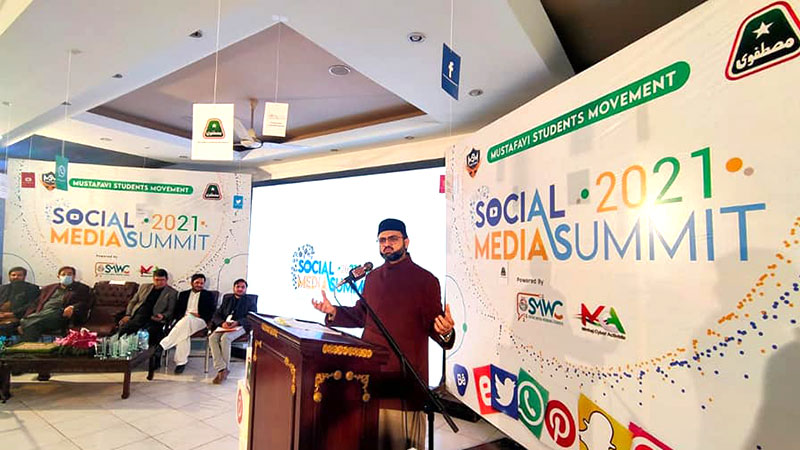 Chairman MQI Supreme Council Dr Hassan Mohi-ud-Din Qadri has said that the government must take action against the elements busy in bringing a bad name to Islam, and Pakistan ideology through their social media posts and messages that are full of hatred. He said that the Holy Quran strictly forbids its followers to spread the news without establishing context and verification, mudslinging and humiliation of others. He said Allah Almighty described the morality of the written and spoken word in Surah al-Hujurat, stating that acting upon this code of conduct is not a prerogative of Muslims but their religious duty. He asked the social media activists associated with MQI to be instruments of bringing people together, and respond to those who spread hatred, sectarianism and extremism with the power of logic and argument.
Dr Hassan Mohi-ud-Din Qadri made these remarks while addressing a social media summit held under the banner of the Mustafavi Students Movement. PAT Secretary General Khurram Nawaz Gandapur, MSM central president Irfan Yousaf, Naib Nazim-e-Aala Media Affairs Noorullah Siddiqui, renowned anchor Osama Ghazi, journalist Siddique Jan, Shoaib Imam, Farrukh Shahbaz Warraich, Farhan Aziz, Faraz Hashmi, Razi Tahir, Mohib Majeed, and Haider Mustafavi also spoke on the occasion.
Dr Hassan Mohi-ud-Din Qadri said that enemies of Islam and Pakistan are using social media platforms as a tool to mislead people and spread hatred and chaos. He said unless such elements are dealt with under the laws, they will continue with their nefarious mission.
While addressing the summit, PAT Secretary General Khurram Nawaz Gandapur said that the youths trained by Dr Tahir-ul-Qadri are the symbol of excellence in morality and piety. He asked the members of MSM to use social media to eradicate hatred and foster unity.
Irfan Yousaf said in his speech that eradication of extremism, character building, and protection of Islam and Pakistan Ideology is the central plank of our social media policy. He said that student representatives from Punjab, Sindh, Balochistan, KP, Gilgit-Baltistan, and AJK attended the social media summit, stating that we are alive to the challenge of the digital age and ready to do our best in this regard.
Noorullah Siddiqui advised social media activists not to let go of decency and good manners while engaging those on the other side of the equation. He said that excellence in morality is the identity of those associated with the mission of MQI.
TV journalist Osma Ghazi said that social media has ended the monopoly of the traditional media. He said if you have quality content wrapped in good and positive thinking and excellent articulation skills, you are sure to find traction.
Farrukh Shahbaz Warraich said that the whole world knows MQI and Dr Tahir-ul-Qadri. He said when Dr Tahir-ul-Qadri announced his retirement from politics, it meant that there was something fundamentally wrong with our politics and society. He said if all were well, good people would not need to renounce politics.
Renowned TV journalist Siddique Jan said that whosoever joins social media armed with research, hard work, and acute observation, will not only get noticed for his work but also be an instant hit.
Raja Zahid Mahmood, Mansoor Qasim Awan, Talha Mustafavi, Aqib Malik, Mithal Ansari, Azhar Awan, Rana Tajammul, Ayesha Mubashir and other leaders were also present.