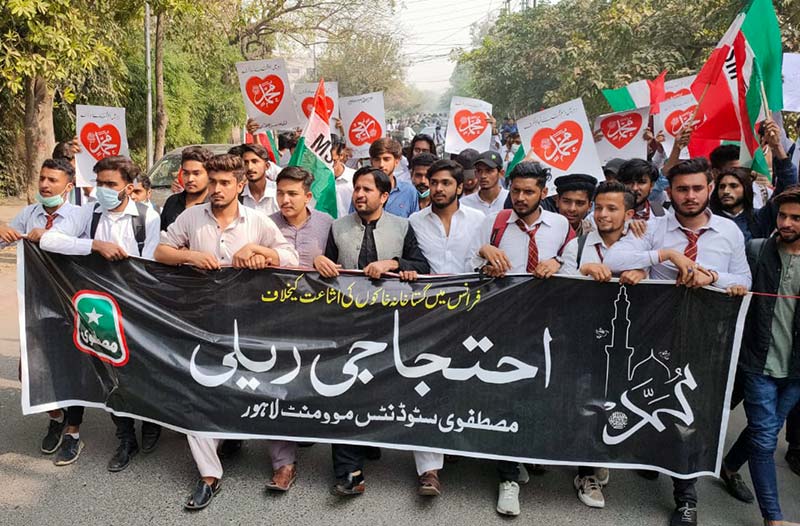 Mustafavi Students Movement took out a rally to condemn the blasphemous caricatures. The rally started at the Model Town Degree College and concluded at the Akbar chowk. Attended by the students in a large number, the rally was an expression of peaceful protest over the act of injuring the emotions of Muslims around the world.
The rally was led by president MSM Chaudhry Irfan Yousaf who was joined by other student leaders such as Sheikh Farhan Aziz, Syed Faraz Hashmi, Usman Gujjar, Saad Mustafavi, Umair Shabbir, Bilal Butt, Sardar Fahd Mustafavi, etc. The students were carrying banners and placards and reciting Durood during the rally.
Addressing the participants of the protest rally, Chaudhry Irfan Yousaf said that the Holy Prophet (pbuh) taught humanity to live together in peace and love. He said Muslims cannot bear the blasphemy of their beloved Prophet (pbuh). He said that hurting the feelings and emotions of over 1.5 billion Muslims is neither democracy nor freedom of speech.
MSM President said that the Holy Prophet (pbuh) is the prophet of mercy and peace for the whole of humanity. He said that his teachings of love, human brotherhood, and tolerance can steer humankind from the abyss it is fast sinking into. He said blasphemy of the holy personages is a grave crime in all religions and faiths of the world. He said former UN Secretary-General Kofi Anan and the Canadian Prime Minister are right to say that the freedom of expression has limits and this right does not mean that you use it to injure the religious sentiments of others.