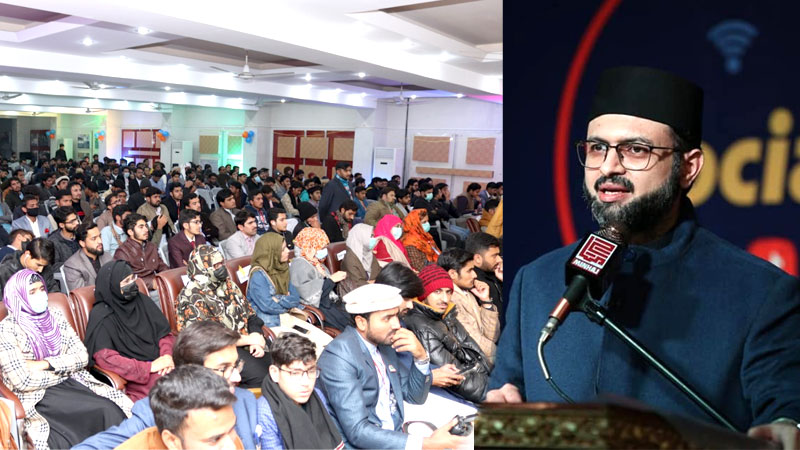 Mustafavi Students Movement (MSM), a student body of Minhaj-ul-Quran International, arranged a social media summit which was attended by the social media activists and youth leaders from across the country.
Addressing the summit, Chairman Supreme Council Dr Hassan Mohi-ud-Din Qadri asked the social media activists to become the protectors of Islam and the Pakistan ideology. He said that the users of social media platforms must come forward and play their part in putting a stop to the march of the forces of extremism and intolerance. "The youth should use the social media to promote unity in the ranks of Muslims and better the image of Pakistan. The use of social media can become a source of positive social change in society," he added.
Speaking at the social media summit, Secretary General MQI Khurram Nawaz Gandapur said that the way education is of no purpose without training, in the same way the use of social media is dangerous without morality and ethics as a governing principle.

Those who addressed the summit included MSM central president Chaudhry Irfan Yousaf, Farrukh Shahbaz Warraich, Saqib Azhar, Ajmal Jami, Siddique Jan, Shahzad Akbar, Duaa Mirza, Iftikhar Ahmad Iffi, Malik Saeed Aalam, Sajid Gondal, Abdul Ghaffar, Syed Basit Ali, Arif Chaudhry, Farhan Aziz, and Haider Mustafa.
The speakers urged the youth to adopt the habit of reading and reconnect themselves with books. They said that the effective and positive use of social media requires expertise in addition to positive mindset.
Besides the office-holders of MSM Cyber Force, GM Malik, Raja Zahid Mahmood, Noorullah Siddiqui, Jawad Hamid, Malik Basit Ali were also present on the occasion.