Asks Sharif brothers to decide which government will be the first to go.
Qisas would be taken on 15 deaths
Quran Khawani will be held daily and candles will be lit in memory of slain workers at city's all squares
Dr Tahir-ul-Qadri addresses General Council of PAT and media conference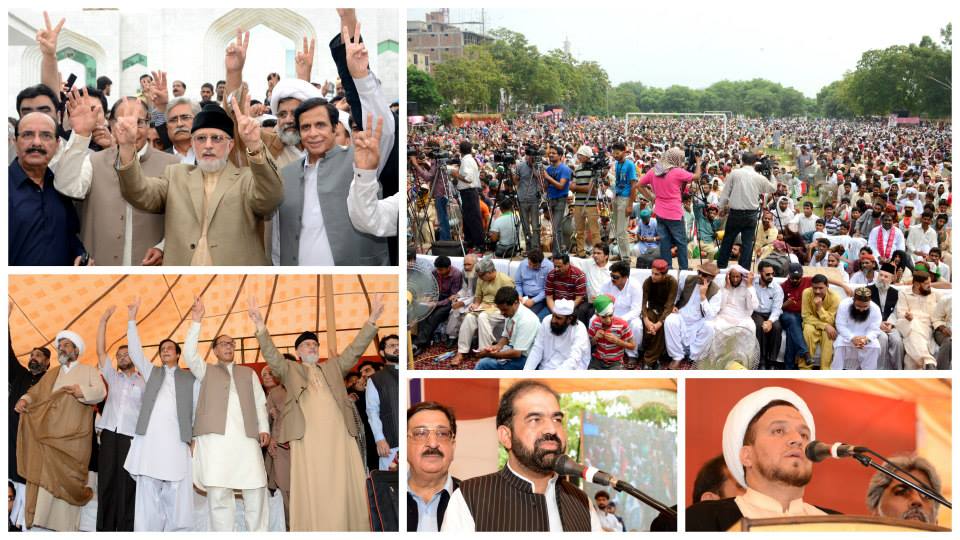 Pakistan Awami Tehreek (PAT) chief Dr Muhammad Tahir-ul-Qadri has said that two cases are being simultaneously pursued against the rulers. He said that one case, which is the Lahore case, was about mass killing of 14 civilians and the intention to kill over 90 of them, whereas the second case, which is the Islamabad case, related to political, economic and social murder of 180 million people. He said that Qisas would be taken in response to the first case, whereas the second Islamabad case would be decided through revolution. He said that there would be 'Chehlum' of the martyrs on August 10. He warned that if the police and local administration tried to stop the people coming to attend the Martyrs' Day and perpetrated brutality and violence on them, then the Martyrs' Day would be observed in palaces of Jati Umra instead of Model Town.
Dr Tahir-ul-Qadri expressed these views while addressing a meeting of PAT's General Council in Model Town on Sunday. The meeting was attended by thousands of workers and 25 heads of the allied political and religious parties. Pakistan Muslim League President Chaudhry Shujaat Hussain, Ch. Pervez Elahi, Sahibzada Hamid Raza of Sunni Ittehad Council, Allama Raja Nasir Abbas of Majlis-e-Wahdat-ul-Muslameen, Baba Haider Zaman of Hazara province movement and many other leaders were also present at the occasion.
Dr Tahir-ul-Qadri said that he would give his personal guarantee for maintenance of peace on the Martyrs' Day in the same way he had guaranteed on the occasion of the Long March in 2013 when no leaf was plucked nor a single pot was broken. He said that if peaceful workers were harassed and intimidated, this attitude would be responded in the same kind.
Putting the police on the alert, Dr Qadri said that the clothes and bodies of the police officials were doused in blood. He said that if they, at the behest of the Punjab government, cracked down on the people coming for Quran Khawani, broke into their homes, harassed and intimidated them and created hurdles in their way, they should know that his workers were not wearing bangles and bracelets. He said that he wanted to tell clearly that the government would not be able to go beyond August and hence it would not be able to come to the rescue of the police officials. He said that they would be put behind bars and made to face law over their brutality and violation of law after revolution. He said that the PAT President of Pindi Bhuttian was murdered at the behest of the government and thus the number of the martyrs had reached 15. He said that Qisas would be taken on the blood of these 15 martyrs according to the Holy Quran and law.
Dr Tahir-ul-Qadri asked the workers to start preparing lists of the rascal and terrorist police officials who would be put into jails and proceeded against under the law after the revolution. He said that if any police officials perpetrated violence, forcibly stopped transport, cracked down on the workers' homes and arrested them, the workers should surround their houses in the form of groups, take hold of them and bring them to the central ceremony on the Martyrs Day, adding that they would be made to do Quran Khawani. He, however, instructed the workers to pay his regards to police officials who would act according to law and would not stop their march. He instructed them to make such lists as well, for their jobs would continue after revolution and they would get promotions too.
Dr Qadri said that revolution was bound to come and no power of the world could stop it. He said that people were coming in large numbers for Quran Khawani for the martyred workers and this would continue till the Martyrs' Day on August 10. He said that if the rulers tried to create hurdles in the way of people coming for Quran Khawani, they would be made an example of and a reference point in history. He designated one week from August 4 to August 9 as Martyrs' Week wherein Quran Khawani would be held on daily basis and candles would be lit in the memory of the slain workers. Thanking the political leaders and media persons, he said that this struggle of the nation for their rights would surely succeed.
Addressing the Sharif brothers, Dr Tahir-ul-Qadri said that Nawaz Sharif and his kitchen cabinet should decide as to which government, federal or provincial, would be the first one to go, for it was the Lahore case, which would be followed by presentation of the Islamabad case, which related to political, economic and social murder of the people with the result that they had been grinding into poverty with no light at the end of tunnel.
Dr Tahir-ul-Qadri said that if the western world thought that there was a democracy and constitutional rule in Pakistan, then they had a gross misunderstanding of the situation here. He said that the standard of living of people of Pakistan was far inferior to that of animals in the western world.
Dr Tahir-ul-Qadri said that if an authority of some locality in the west shot down a dog, he would not be able to hold public office anymore. He said that 14 people were killed in broad daylight and 90 of them were injured in Pakistan but even First Information Report (FIR) had not been registered. He said that had this incident taken place in any western country, would the government there had continued to remain in power?