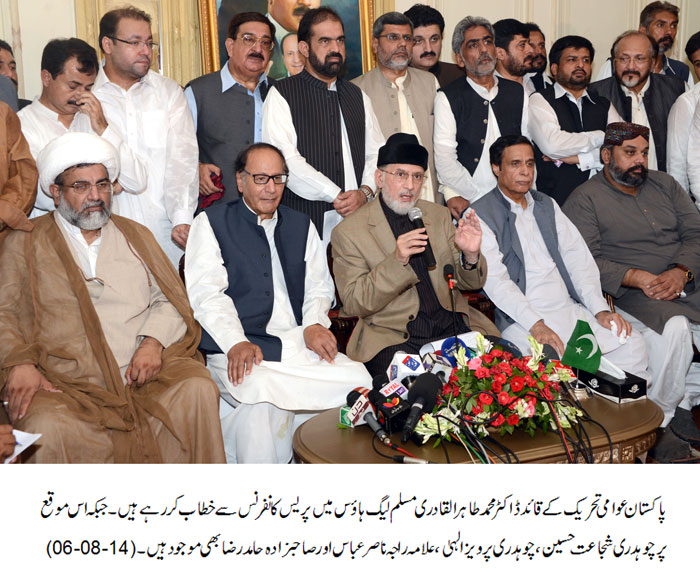 PAT chief Dr Muhammad Tahir-ul-Qadri has said that on the occasion of Martyrs Day on August 10, Quran khawani will also be held for and the rich tributes will be paid to soldiers of the armed forces who have lost their lives in the line of duty while flushing out militancy and terrorism from the country. He said that hundreds of thousands of people would reach Model Town for Quran Khawani. He asked people to bring a copy of the Holy Quran, a prayer mat and a rosary with them individually because these things could not be provided to such a large number of people.
He promised that Martyrs Day would be as peaceful as the Long March was but added in the same context that the dirty-minded ministers of Nawaz Sharif's kitchen cabinet who made him a monarch were plotting to arrest peaceful PAT workers and perpetrate savagery and violence on them. He said that there was a limit to patience of workers and civilians, adding that everyone had a right of self-defence. He said that if they were subjected to violence and terrorism, only the government of Punjab would be responsible for law and order situation.
Dr Tahir-ul-Qadri stated this while addressing a press conference at residence of PMQ President Chaudhry Shujaat Hussain on August 06. Ch. Shujaat Hussain, Ch. Pervez Elahi, Allama Raja Nasir Abbas, Sahibzada Hamid Raza, Dr Raheeq Abbasi, Khurram Nawaz Gandapur, Qazi Faiz, Bashrat Aziz Jaspal, Fayyaz Warriach and others were present on the occasion.
Dr Tahir-ul-Qadri said that there was no democracy in the country. He said that the people were only required to go through the ritual of casting their vote after every five years and then they were forgotten. He said that the rulers had made the law and the Constitution handmaiden of their homes, adding that the parliamentarians had held the law and Constitution hostage. He said that these rulers benefitted their cronies through SROs in last one year. He said that violating the SC order, they retained the power of appointing heads of 32 state-owned entities out of 58.
He said that Mustafa Kamal, brother of Federal Minister Ahsan Iqbal, was bribed to the tune of Rs. 12 billion in a clean drinking water project, while the fact of the matter was that a child was dying of impure water after every second. He said that Rana Asad, brother of Provincial Minister Rana Mashhood was appointed as advisor and being paid Rs. one million per month, while he sat over a budget of Rs. 4 billion in PHA. He said that it was a robbery on the resources owned by 180 million. He said that the blood of the people was being sucked. He said that 8 people were martyred in Tehreek Sooba Hazra, adding as to who would take revenge of those who were killed during attack on the shrine of Data sahib.
Dr Tahir-ul-Qadri said that the ministers of the Sharif government were involved in bloodshed and terrorism and deployed for character assassination of the opponents. He said that they raised baseless allegations of money laundering against him. He said that FIA sent a report of 100 pages to the Prime Minister, saying that money laundering of even a single rupee was not proven against him anywhere in the world. He said that the government should resign after its accusations had been proven false.
Addressing the press conference, Ch. Shujaat said that revolution would definitely come and no power of the world could stop it. He said that the rulers had been unsettled mentally and resorted to use of such petty language that he considered it below his dignity to respond to it.
Allama Raja Nasir Abbas of MWM said that if Dr Tahir-ul-Qadri and his workers were arrested and repression was committed against them, MWM would jam the entire country.