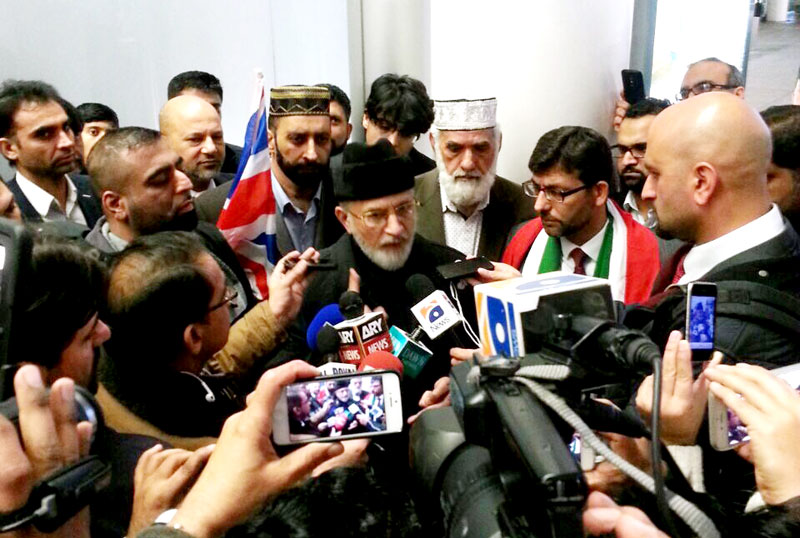 PAT chief Dr Muhammad Tahir-ul-Qadri has said that the Sharif brothers are afraid of fair and transparent investigation into Model Town tragedy. He said that fake JIT formed by a government, which is a principal accused in the incident, is not acceptable at any cost, adding that we want such a JIT which does not a representation of any officer from Punjab and is free from influence of the Sharif brothers. He asked the Punjab government to explain as to why it took a stay from the Lahore High Court to avoid release of a report of an inquiry tribunal.
Dr Tahir-ul-Qadri expressed these views while talking to media on reaching London from the US. He said that he has a global position as a head of an organization that has its network in over 90 countries, adding that he would continue to visit the world as and when required. He said that Imran should be asked the question regarding lifting of Umpire's finger. He, however, prayed for success of PTI's public meeting on November 30. He said that we take our political decisions ourselves.
Responding to a question regarding attack on PTV building, Dr Qadri said that he did even know where the gate of PTV headquarters is located, what to speak of ordering an attack on it. He said that the people whose pictures were published are PTV employees, a fact which even Federal Minister Saad Rafique admitted on his indication. He said that the rest of attackers were also government employees and daily wagers, further stating that the case of this vandalism should be registered against the government.
The PAT chief also rejected an allegation of attack on Parliament House. He said that our workers only took shelter in the lawns of Parliament House to protect themselves from heavy shelling of teargas and even firing of police and stayed encamped there for a few days. He asked if it was an attack on the building of Parliament, why were they not arrested at that time?
Answering questions of media men, Dr Tahir-ul-Qadri made it clear that attack on state buildings was neither part of our revolution programme nor were any instructions issued to this effect nor were we aware of any such attack. Replying to a question regarding a deal with the government, he said that issuance of arrest warrants against us and notices of proclaimed offenders are a slap on faces of such people who accuse us of having clinched a deal with the rulers. 'What kind deal it was in which we have accepted to be designated as proclaimed offenders, got arrest warrants and our workers are facing fake police cases in courts,' he said.
Dr Tahir-ul-Qadri said that if the government wants to arrest him, it should do so happily 100 times. He said that he did not ask the Army Chief to impose a martial law; rather his request is only confined to help for provision of justice in Model Town tragedy because rulers are not accepting the report of a High Court judge. He said that the Army Chief became facilitator on the request of the Army Chief and that is why, PAT has asked him for help. He said that he has immense faith in the military.
The PAT Chairman said that his party is in constant contact with heirs of martyrs. He said that the Punjab government gave them a bait of Rs. 10 million and visas for each family but they rejected the offer. He said that his sons, Dr Hassan and Dr Hussain, were in touch with the families of martyrs, adding that PAT is paying monthly domestic expenditure of the families. He said that he has expanded the sit-in into a countrywide movement. He said that we would go to every city in all the four provinces. He told that he would stay in the UK for two days where he would have meetings with Pakistani expatriate community and overseas chapters of PAT will be activated.