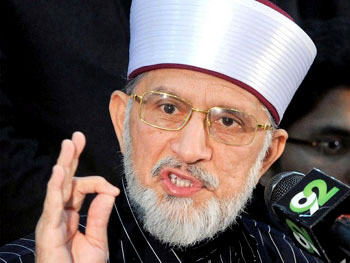 PAT leader Dr Muhammad Tahir-ul-Qadri has said that the Chief Minister of Punjab should tender his resignation before investigation can begin in the Model Town tragedy. He said that the Joint Investigation Team (JIT) established by the government, which is the main accused of the massacre, is not acceptable at any cost. He said that if the rulers have nothing to worry about and have no role in the Model Town incident as they claim, why are they not releasing inquiry report of one-man Judicial Tribunal and why do they continue to sit on the report despite massive public demand to make it public?
Dr Tahir-ul-Qadri expressed these views while talking to representatives of print and electronic media in London before his departure for Pakistan on Wednesday. He said that the heirs of martyrs showed their lack of confidence in the JIT, adding that in this situation it will be better if those manning the investigation team separate themselves from the JIT with grace as they lack moral authority to go ahead with the investigation process. He said that it is the Punjab government which planned the incident and police executed the plan by killing innocent people.
Dr Qadri said that PAT would neither join the investigation process nor submit any evidence. He said that he wants the kind of JIT which enjoys the confidence of the bereaved families and does not have representation of officers from Punjab, adding that it should be manned by representatives of ISI and MI as well. He said that we would accept only that JIT, which is established in accordance with law and concurrence of affected party. He said that people want change and dismantling of status quo. He said that strong political alliances will come into being near elections. He said that our fight is against status quo, which continues with commitment and determination.
The PAT chief made it clear that there is no difference with PTI nor did he talk about paring ways with it. He said that a section of media put its own interpretation, which is not correct. He said that both PAT and PTI, despite being two different parties, are waging a shared struggle against oppression. He said that those who attacked Supreme Court and divided it should feel ashamed while talking of democracy, rule of law and the Constitution.
Throwing light on his overseas tour, Dr Tahir-ul-Qadri said that his visit to the UK and USA remained highly successful. He said that expatriate community is ready to pay back entire foreign loan of Pakistan but corrupt rulers and a system of corruption are major hurdles in their way. He said that traders, businessmen and industrialists of Pakistani origin expressed their resolve to invest billions of dollars in their home country provided the corrupt, rent-seeking system is changed.
The PAT chief said that Pakistan needs economic, political and educational reforms to become a regional powerhouse. He said that our struggle is national and we would unite all federating units in a thread of love, harmony and reconciliation and end exploitation of every kind. He said that Pakistan's minorities, working classes, clerks, farmers and downtrodden sections of society should not be worried at all as PAT and Dr Tahir-ul-Qadri would become their voice. He said that we would not let such a system stay intact in which corrupt rulers, their children and hangers-on use the powers of the institutions to further their personal agendas. He said that we are partner and ally of every such party which is raising its voice against system of oppression.