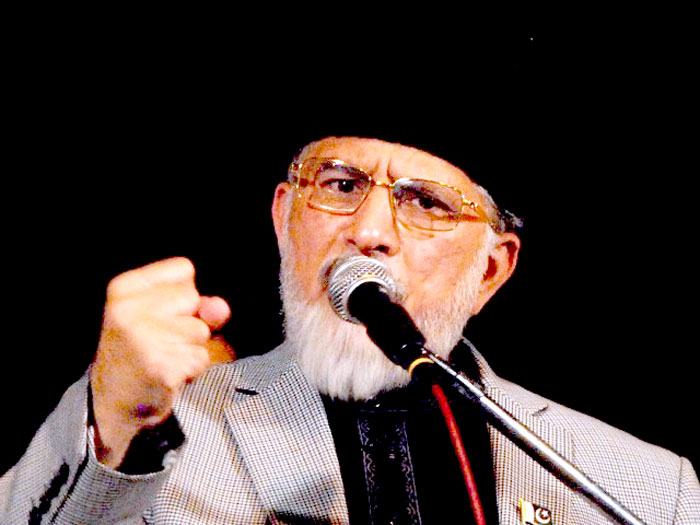 PAT leader Dr Muhammad Tahir-ul-Qadri has underlined the need of eliminating terrorists of all hues and colours without any discrimination and said that time to engage them in talks is long past. He said that had Operation Zarb-e-Azb been carried out one year ago, we would not have been holding the dead bodies of our children in our hands today.
Dr Tahir-ul-Qadri expressed these views while talking to media from the US. He said that there is a manifest 180 degree difference of opinion between the armed forces and the civilian government on the issue of terrorism, adding that fighting a war against terrorism is not merely military's job alone. He said that the whole nation would have to rise against this scourge. He said that Peshawar tragedy deserves to be condemned in the strongest possible words.
Dr Tahir-ul-Qadri asked the political parties to outlive this thought that it is not our war but war of someone else. He said that the nation needs to get united thinking that it is our war and we have to take it to its logical end for our survival. He said that we are ready to sit and work with other political parties for elimination of scourge of terrorism. He said that had PAT been invited to attend All Political Parties meeting, it would definitely have participated in it because it is a question of security of the nation, and the country's future.
He said that the government did not invite us because it knows that we have a very clear and definitive stance on terrorism. He said that he issued 600-page Fatwa to end terrorism, adding that had present and past rulers been serious, they would certainly have benefited from it.
It is pertinent to mention here that the moment Dr Tahir-ul-Qadri came to know of Peshawar tragedy, he talked to Pakistani media despite being ill and condemned the horrible incident.