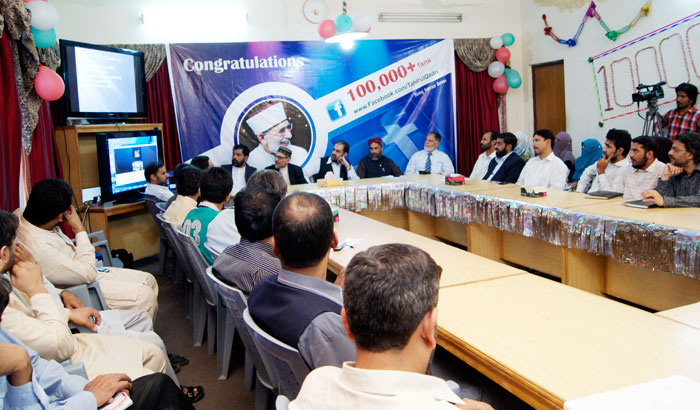 Minhaj Internet Bureau arranged a ceremony on October 25 at central secretariat of MQI to acknowledge the services of volunteers on reaching the number of one hundred thousand fans on the official facebook page of Shaykh-ul-Islam Dr Muhammad Tahir-ul-Qadri (www.facebook.com/TahirulQadri). Dr Raheeq Ahmad Abbasi, Secretary General of MQI, presided over the ceremony, whereas Dr Muhammad Munnam Tahir, Engr. Shumail Mohi-ud-Din, Dr Muhammad Hateem and Hassan Ali were the guests of honour on the occasion.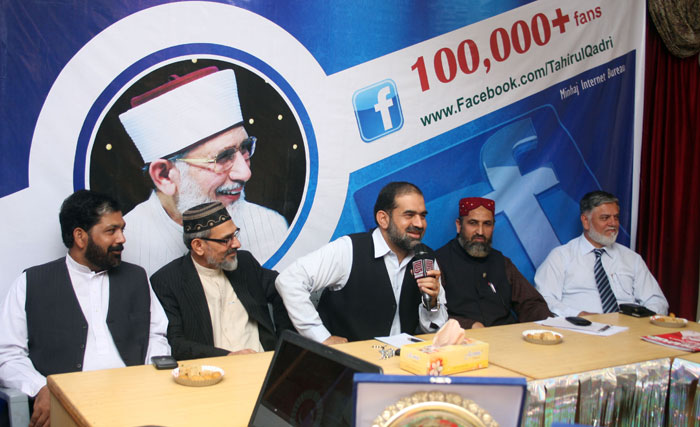 Those who attended the ceremony included Allama Muhammad Sadiq Qureshi, G.M. Malik, Raja Muhammad Jamil Ajmal, Sajid Mahmood Bhatti, Qazi Faiz-ul-Islam, Allama Ghulam Murtaza Alvi, Muhammad Farooq Rana, Amir Yousaf Chaudhry, Shafiqur Rehman Saad, Abdus Sattar Minhajian, Muhammad Sanaullah Chaudhry and the central office holders of Minhaj Women League. It is pertinent to mention here that Allama Muhammad Iqbal Fani (Norway), Naveed Ahmad Undulasi (Spain), Muhammad Ajmal Khan (UK), Mahmood Raza Tahiri (Lodhran), Ghulam Jilani (Chakwal), and Muhammad Ilyas Awan (Abbottabad) also attended the ceremony through skype.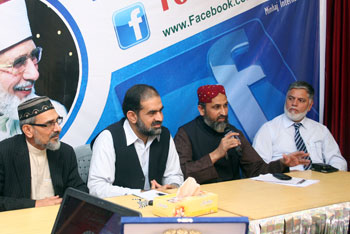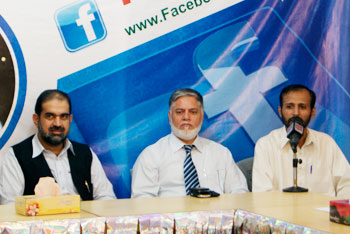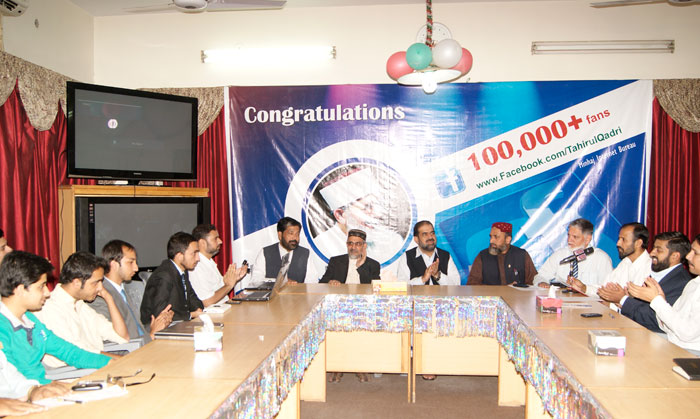 The proceedings of the programme got underway with the recitation from the Holy Quran followed by Naat. Allama Ghulam Murtaza Alvi conducted the proceedings. The Director of MIB delivered the introductory words and briefly informed the audience about the services of volunteers associated with the project.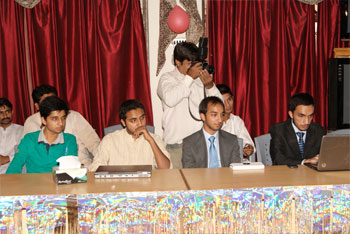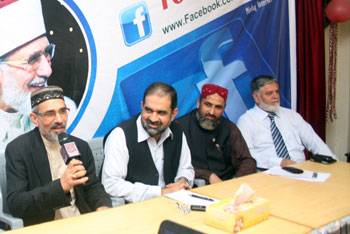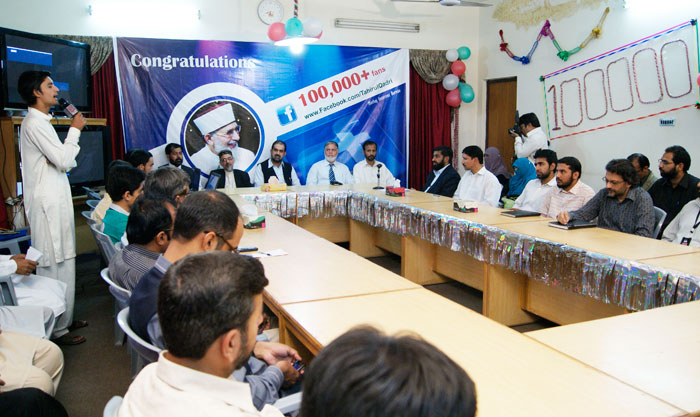 Speaking on the occasion, Dr Raheeq Abbasi appreciated the services of MIB volunteers for their outstanding efforts in accomplishing the target of one hundred thousand fans on the official facebook page of Shaykh-ul-Islam Dr Muhammad Tahir-ul-Qadri. He said that the rare feat was achieved owing to dedication, commitment and professionalism of those who managed the page. He said that MQI has been keeping itself abreast of latest technology in propagating the message of peace, unity, harmony, integration and love. He said that MIB was a line department of MQI dealing with the entire range of social media.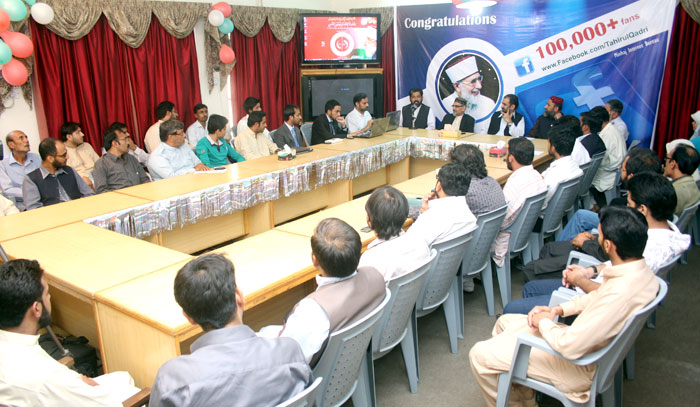 Dr Abbasi said that MIB had been rendering the service of spreading Shaykh-ul-Islam's message and thoughts around the world through a network of long distance volunteers.
Dr Muhammad Munnam Tahir thanked the central leaders of MQI for holding the ceremony meant to acknowledge and encourage the MIB volunteers for their services. He said that it was a matter of immense satisfaction that the official facebook page of Dr Muhammad Tahir-ul-Qadri became so popular in a short span of time. He gave a presentation on the popularity gained by the official page on the social media.
Allama Muhammad Sadiq Qureshi, GM Malik, Raja Jamil Ajmal and Sajid Mahmood Bhatti also spoke on the occasion and felicitated the MIB team on their wonderful work. Special shields were given away to the volunteers in recognition of their services. A group photograph was taken on the occasion. The ceremony concluded with Dua.